Home
>
Faculty of Arts
>
Library and Information Science
Library and Information Science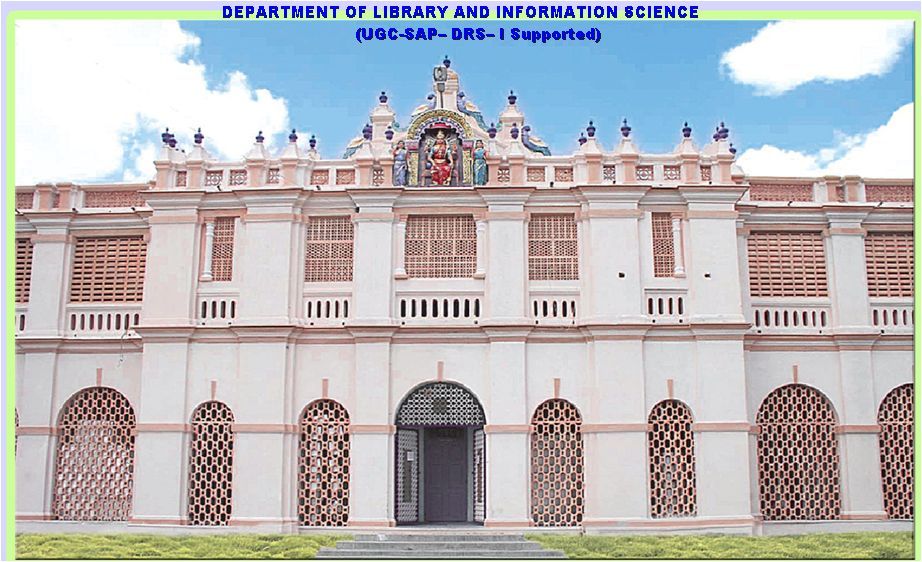 Department of Library and Information Science
The Department of Library and information science, established during the Golden Jubilee year (1979) of the university, offers the following programmes of study: M.Lib.I.Sc., (Five Year Integrated), B.Lib.I.Sc., (One Year), M.Lib.I.Sc., (One Year), M.Lib.I.Sc., (Two Year), M.Phil.,(Regular), Ph.D. (Regular, Part Time & External). Various interdisciplinary courses and elective papers are introduced in the CBCS system in all the four semesters. 148 Ph.Ds and 157 M.Phils have been produced by the department. Students and research scholars are offered various scholarships for their research. Two of the faculty have won awards.
The faculty members have published more than 325 research papers in both National and International journals. The department has organized three international conferences ten National Seminars and four workshops. Three projects where sanctioned by the UGC of worth Rs.29 lakhs for the assistance at the level of DRS-I for five years [2011-2016] under the Special Assistance Programme [SAP], and Rs. 5,03,600 lakhs for 2013-2015. The curriculum is designed according to emerging areas of Library and Information science by the board of faculty members regularly. The students are well equipped with the recent trends in the Libraries by the presentation of Faculty Lectures and Guest Lectures at regular intervals.
The Department has a dedicated and committed team of faculty with rich research experience. The syllabus of the department is on par with international institutions. Multimedia technology is used in addition to conventional teaching methodology. The department is supported by UGC-SAP between 2011-16.
Highlights of the Programmes
Job oriented curriculum design to enable the students to face competitive examinations like UPSC, TNPSC, UGC-JRF-NET, and SET.
Library visit and training programmes.
Opportunity to undertake research project
Excellent job opportunities
ICT enabled curriculum design and teaching
Opportunities to Present/ Participate in Seminars/ workshop/Conferences
Thrust Areas of Research
Information & Communication Technology
Information Seeking Behaviour
User Study
Digital Libraries
Bibliometrics,
Scientometrics
Webometrics
Job Opportunities
School Libraries
Public Libraries
Teacher Training Institutes
College Libraries
Engineering College Libraries
University Libraries
Documentation Centres
Research Institutions
Corporate sectors
Programmes Offered
Master of Library and Information Science (Five Year PG Programme)[M.Lib.I.Sc]
Bachelar of Library and Information Science (One Year) [B.Lib.I.Sc]
Master of Library and Information Science (One Year) [M.Lib.I.Sc] 
Master of Library and Information Science (Two Year) [M.Lib.I.Sc]
M.Phil.(Regular)
Ph.D. (Regular, Part Time & External)