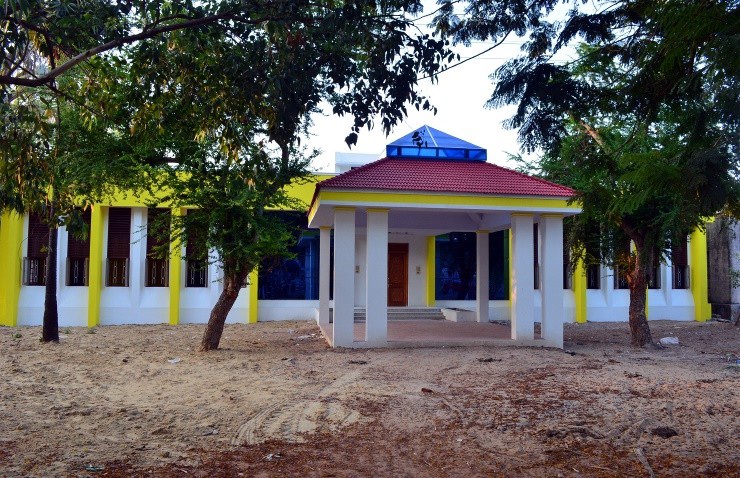 Centre for Yoga Studies of Annamalai University was started on 7th December 1998 headed by Dr. S. Viswanathan, M.D., D.G.O., M.Sc., Ph.D.(Yoga) as Director. The Centre has grown with the full support and help from the University authorities, staff and students. The Centre is working towards providing scientific and qualitative holistic spiritual education thereby developing the younger generation to progress with peace and perfection.
Objective
WORLD TRANSFORMATION
THROUGH
SELF TRANSFORMATION
FOR A PEACE AND PROSPEROUS WORLD.
Highlights of the Centre
ADOPTED integrated approach towards Yoga and Meditation
PUBLISHED "OM" magazine as an organ of the center
ORGANISED extension activities for school students, NCC cadets, NSS volunteers, Lay Public and Prisoners
DESIGNED curriculum in Yoga for B.Ed,BPT, MPT and B.Sc.Nursing
CONDUCTING Diploma, P.G Diploma & M.Sc. courses in yoga
INTRODUCED Yoga therapy at RMMC&H Annamalai University
ATTRACTED a large number of VIPs,including NAAC(National Assessment & Accrediation Council) and UGC (University Grant Commission)
TRAINED more than 50,000 students
ESTABLISHED sub-centre at Parangipettai and meditation hall at various Hostels of Annamalai University
GREAT APPRECIATION from trainees and VIPs
RECOGNISED as role model center for higher learning in the Universities World-over
Regular Programmes
Hatha Yoga (15 DAYS)
6.00 AM to 7.00 AM
5.00 PM to 6.00 PM
Raja Yoga Meditation (Monday to Friday)
6.00 AM to 7.00 AM
Arulthanthai Vethathri Maharishi Meditation (Tuesday only)
6.00 AM to 7.00 AM
Ramalinga Vallalar Meditation (Wednesday only)
6.00 AM to 7.00 AM
Sri Aurobindo and Mother Meditation (Thursday only)
6.00 AM to 7.00 AM
Audio Visual Program (Monday to Friday)
6.00 AM to 7.00 AM
Programmes Offered
M.Sc. Yoga CBCS - Full-Time (2 years) (E/M)

[To be started from 2017-18]

M.Phil. Yoga Full time (1 Year)

[To be started from 2017-18]

Ph.D. Yoga Full time (2 Years with M.Phil.)
Full time (3 Years without M.Phil.)
Part time (3 Years with M.Phil.)
Part time (4 Years without M.Phil.)
External (3 Years with M.Phil.)
External (4 Years without M.Phil.)

Distance Education :
Compulsory Personal Contact Programme

Diploma in Yoga (Tamil/English) (1 year)
P.G.Diploma in Yoga (Tamil/English) (1 year)
Eligiblity of the Programme
Eligiblity:
DIPLOMA programme +2 or Equivalent
P.G. DIPLOMA programme Any Degree from recognized University
M.Sc. IN YOGA programme P.G. Diploma in Yoga in Annamalai University

Fee Structure
Diploma in Yoga Rs 2300/-
PG Diploma in Yoga Rs 3400/-
M.Sc. IN YOGA Rs 8000/-
Phone: 04144 – 239600 E-Mail: auyogacentre@gmail.com