The Pondicherry University is organising a 7 day National Workshop sponsored by the Association of Indian Universities New Delhi from 18th to 24th Sept 2018 - Dr Ilangovan, Head, Department of Commerce, delivered the Key Note Address at the Inaugural function.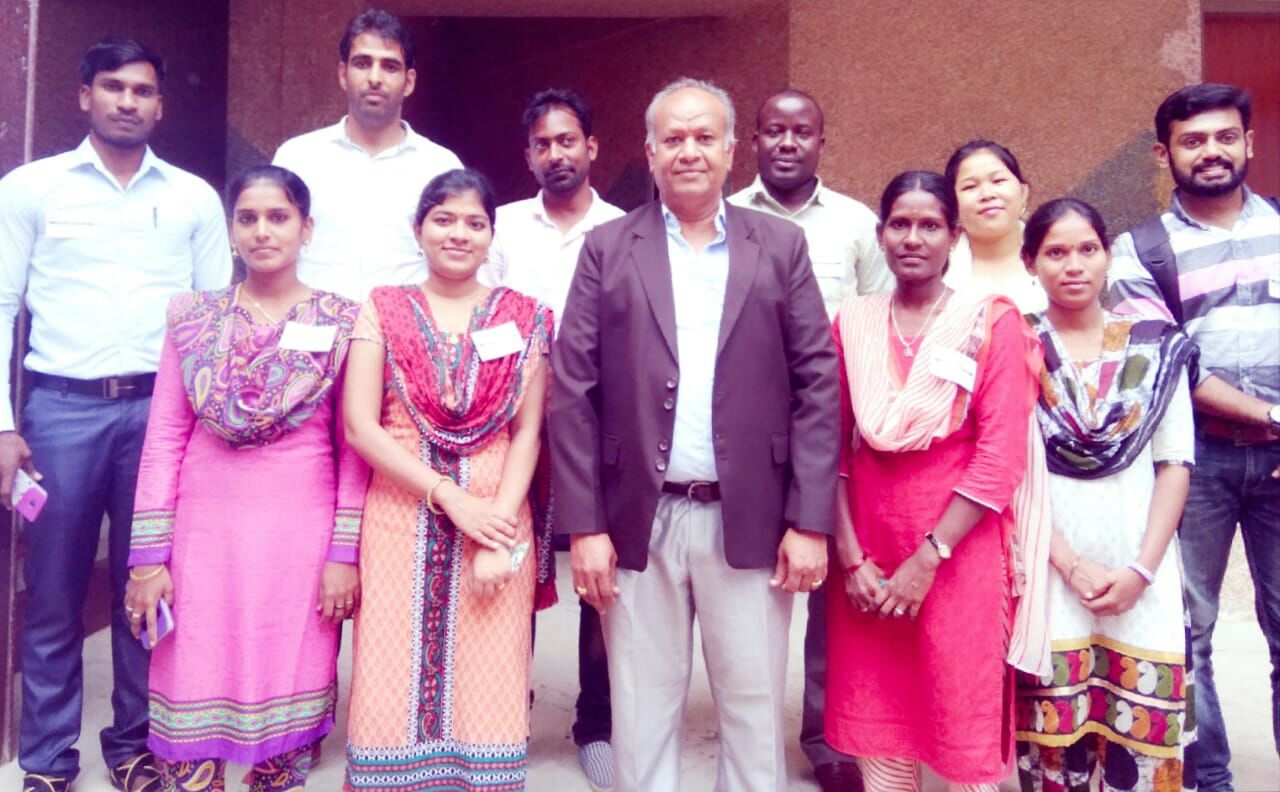 The Pondicherry University is organising a 7 day National Workshop sponsored by the Association of Indian Universities New Delhi from 18th to 24th Sept 2018 - Eleven Scholars from Commerce Department Participated at the seminar.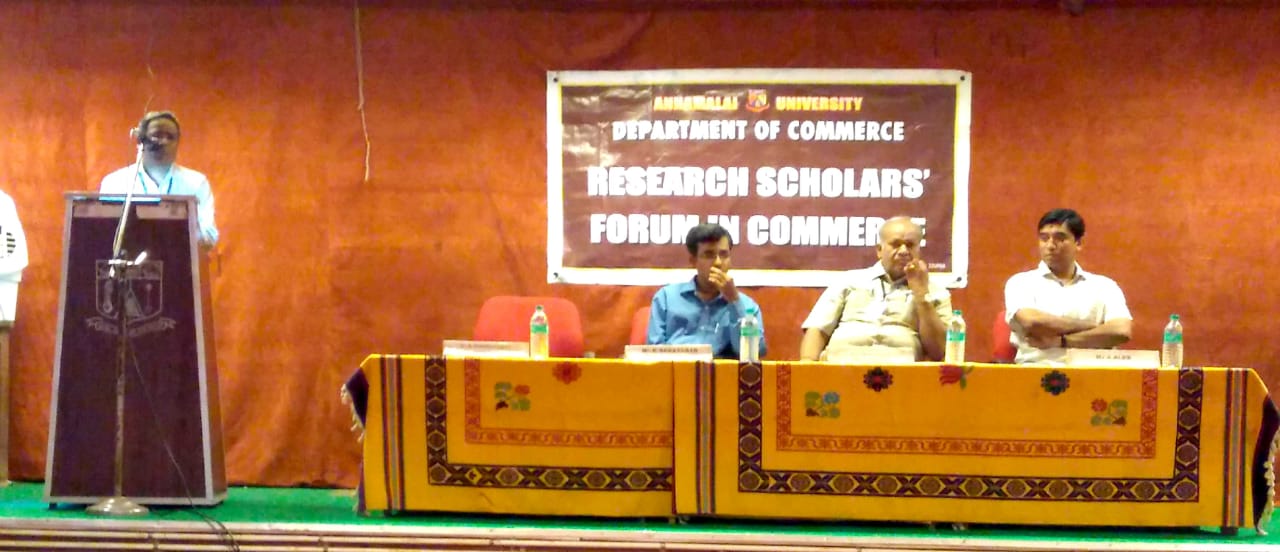 NET SET TRAINING AND ORIENTATION (Given by Thiru.K.Narayanan from Puducherry and Fr.A.Alex from St. Joseph's College, Cuddalore) TO RESEARCHERS IN ARTS, SCIENCE AND EDUCATION FACULTY
One Day State Level Students Seminar on Accounting Standards inaugurated by Arts Dean Dr.E.Selvarjan.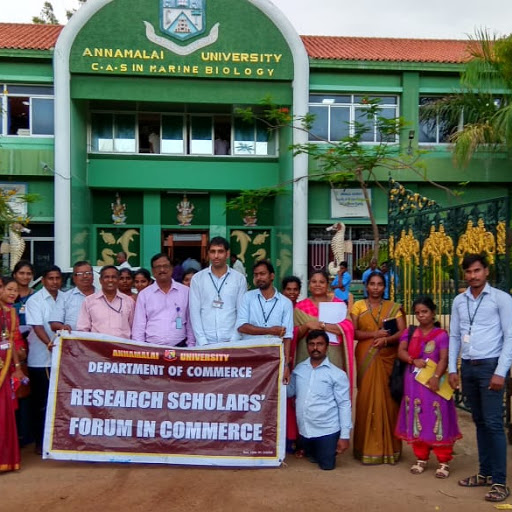 Visit to Research Institution - CAS in Marine biology by Research Scholars - Welcome by Dean o0f Marine Science Dr.Srinivasan, M.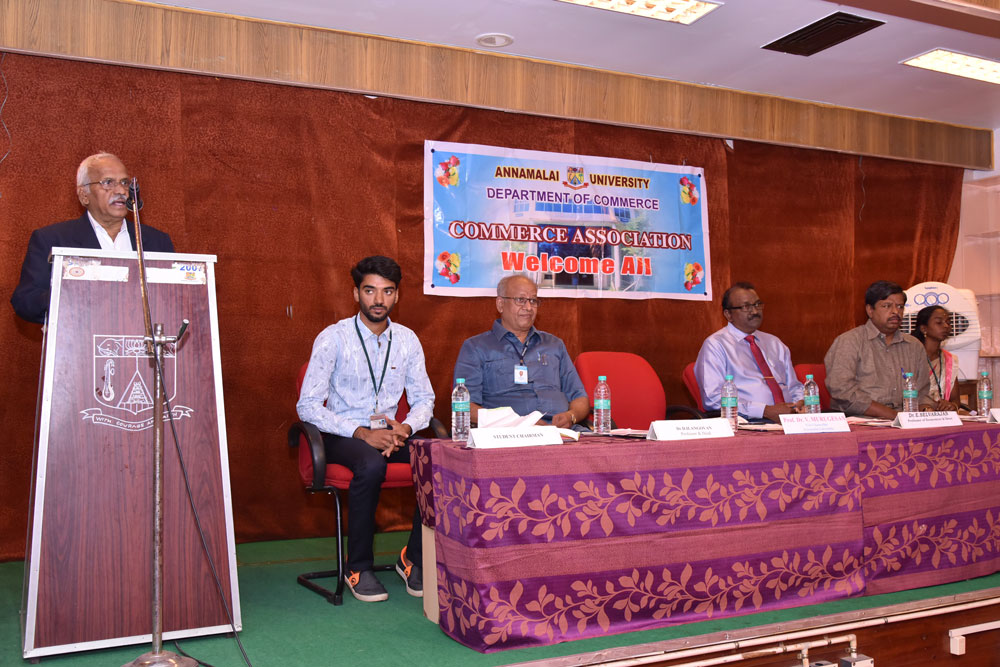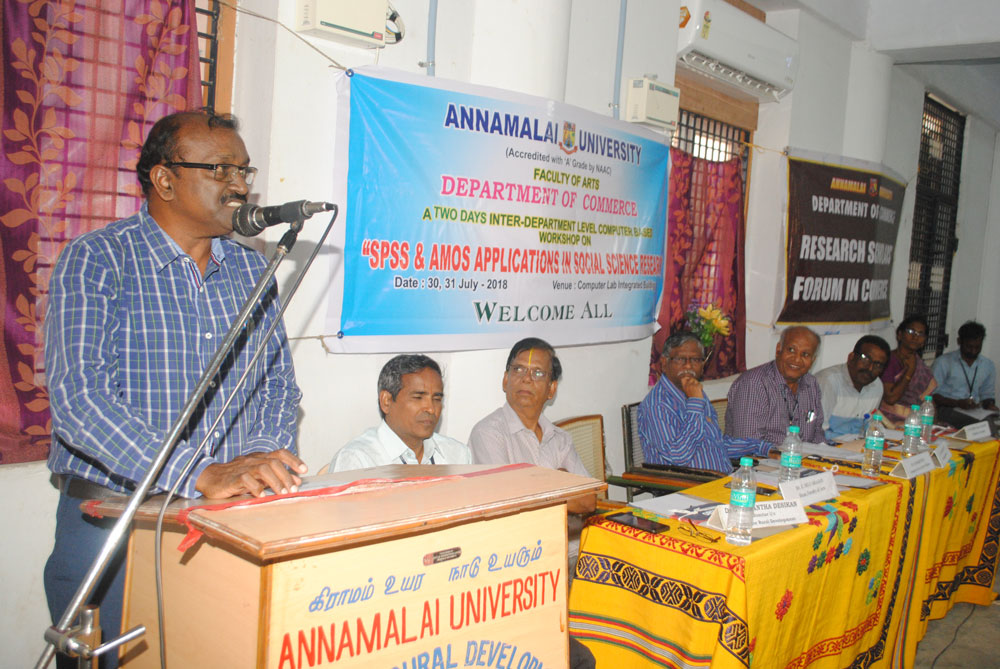 The Dean of Arts Dr.E.Selvarajan delivering the Valedictory Address in a Two Day Workshop on SPSS and AMOS Application Social Science Research on 31st July 2018. The Dean of Medicine Dr.D.Rajkumar distributed Certificates.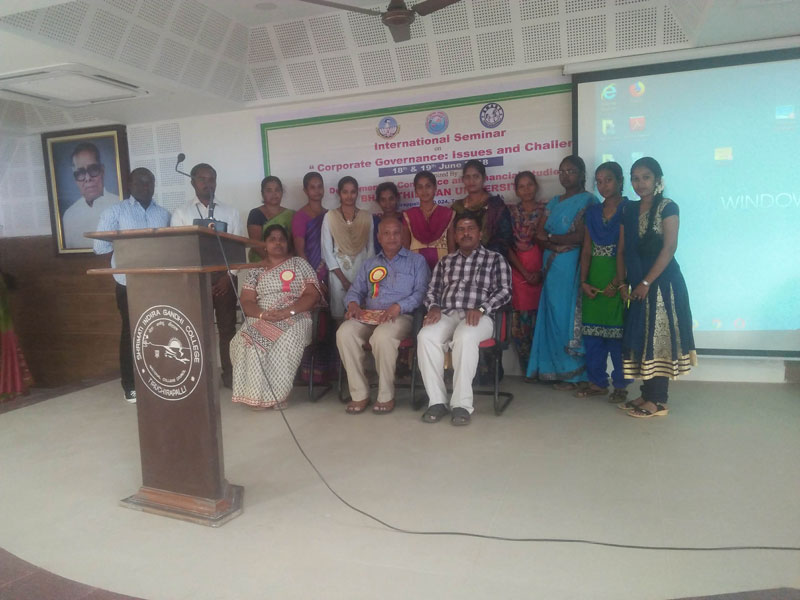 Thirteen Research scholars from the Dept of Commerce who attended the Two day International Conference on Corporate Governance organised by Bharathidasan University Trichy on 18 and 19th June 2018.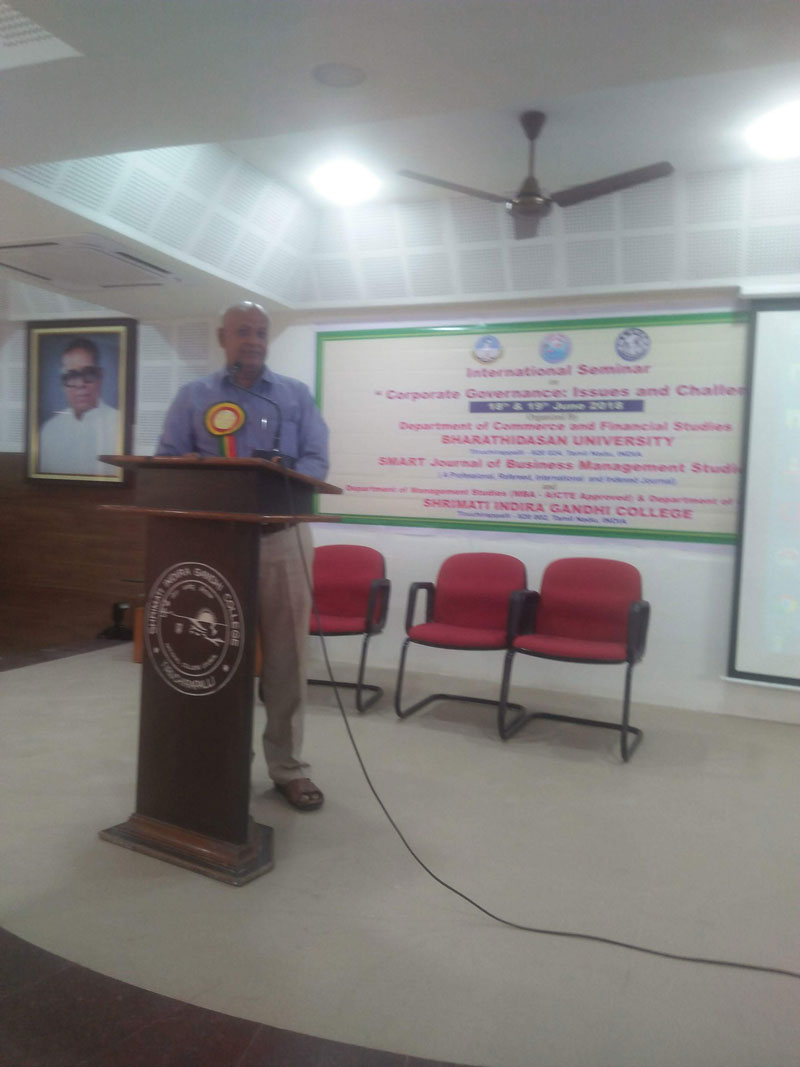 Dr.D.Ilangovan Prof & Head Dept of Commerce addressing the participants of International Conference on CORPORATE GOVERNANCE held in Trichy ON 19th June 2018.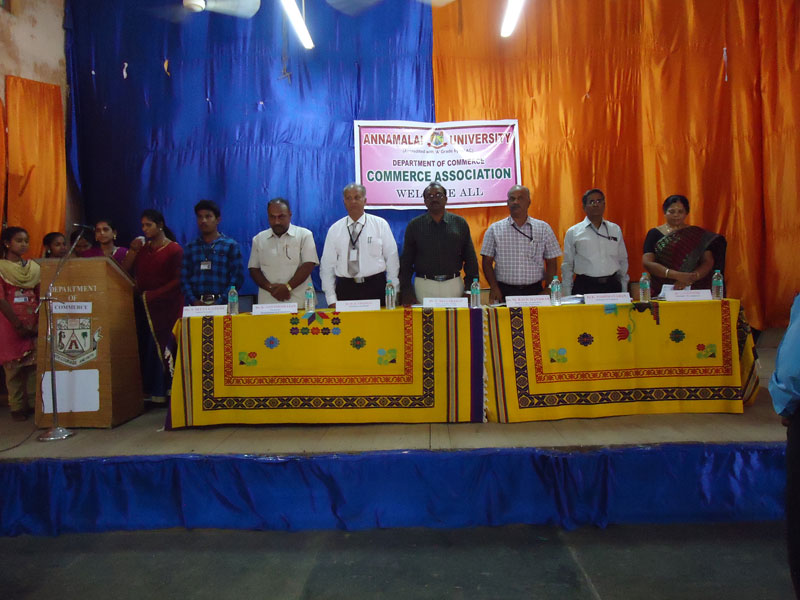 The valedictory function of Commerce Association was held on 16-4-2018 and The Dean of Arts and the Dean of Agriculture Faculties were the chief guests.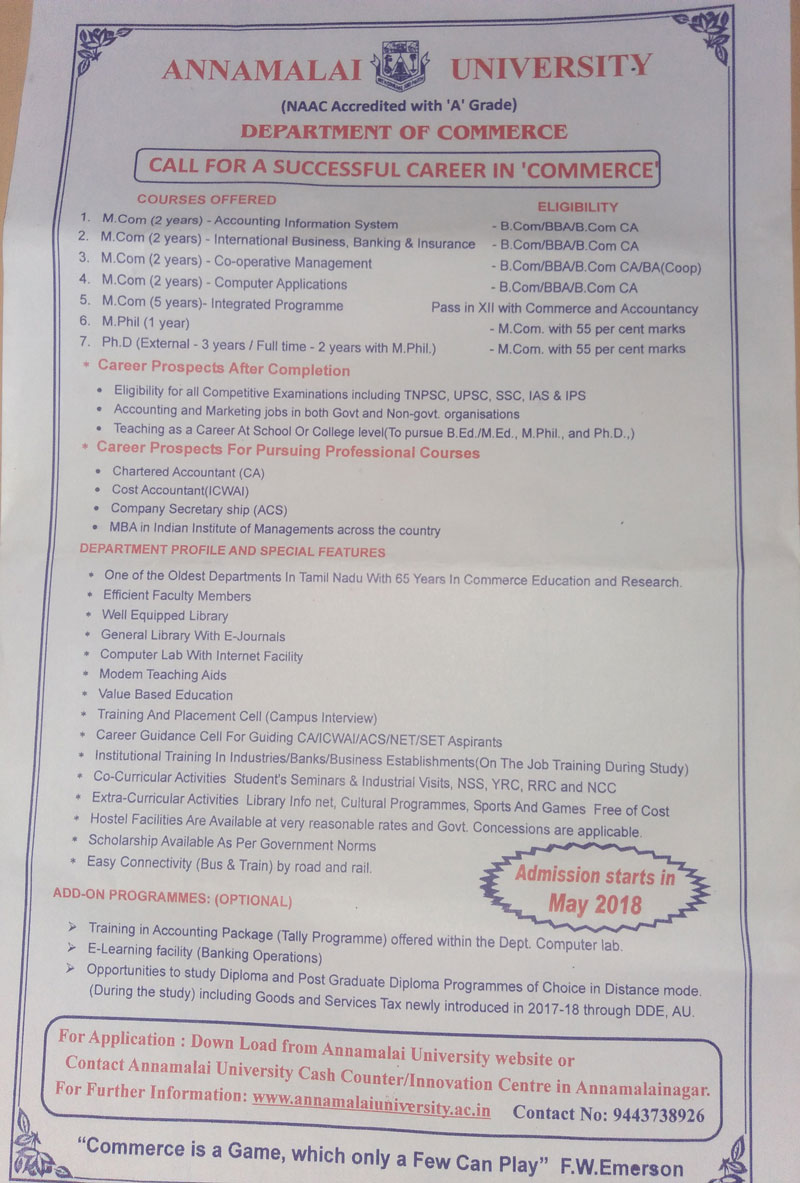 Brochure on Commerce Programmes for 2018-19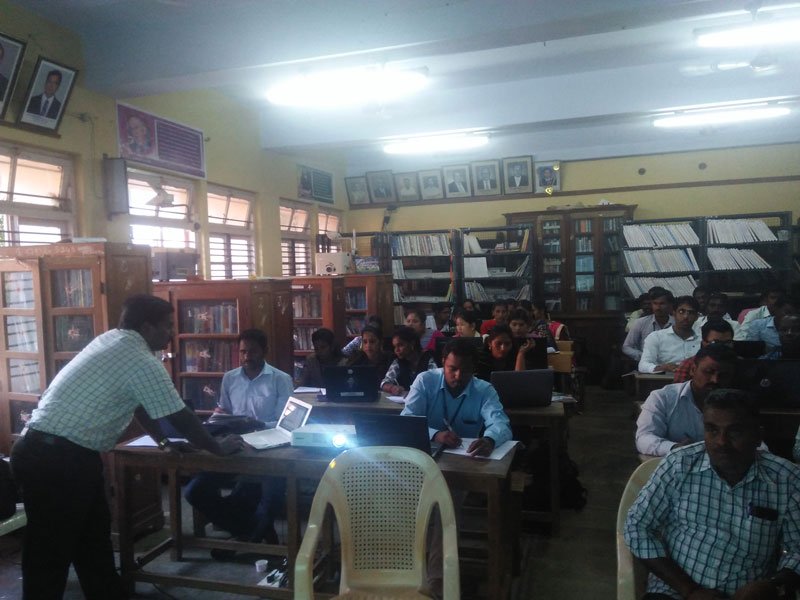 Dr.T.Thirupathi, HOD commerce govt Arts College Salem addressing the Research scholars in Commerce
on DATA ANALYSIS IN SOCIAL SCIENCE RESEARCH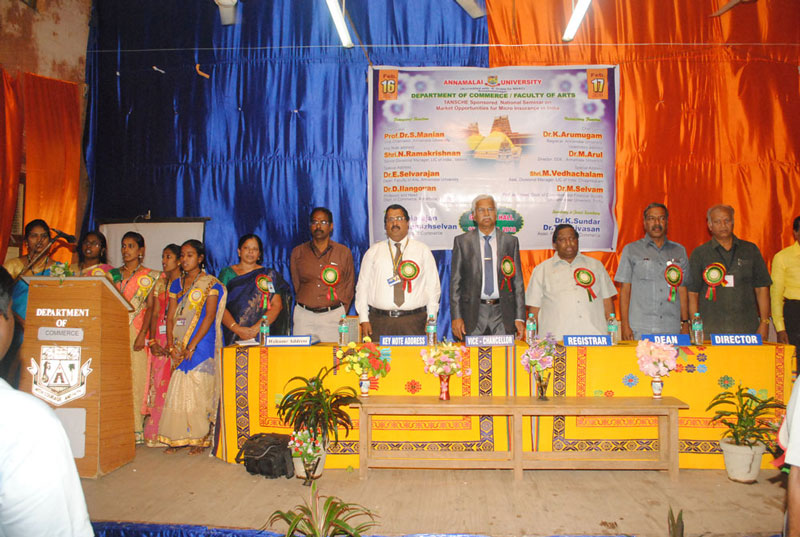 Inauguration of National Seminar on Micro Insurance by our Hon'ble V.C. on 16.2.2018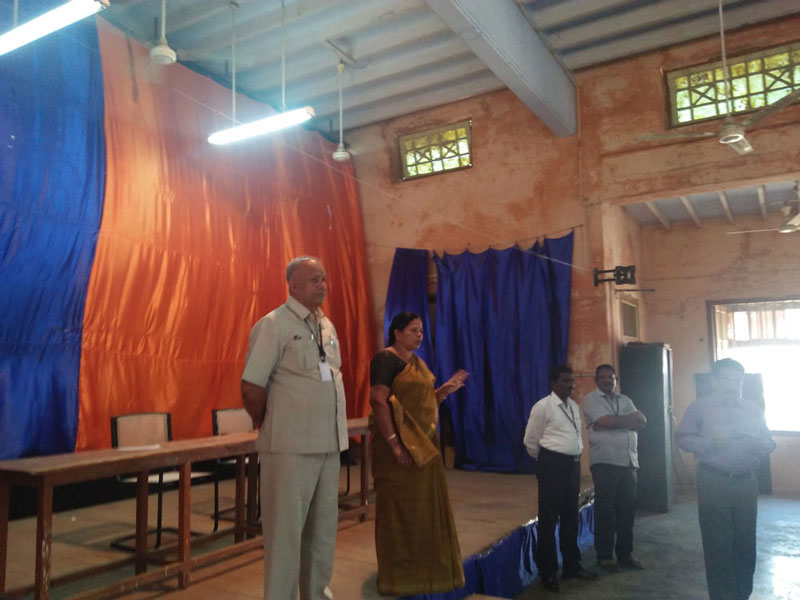 Dr.D.IIangovan addressing the parents at the PT Meet held on 2.3.2018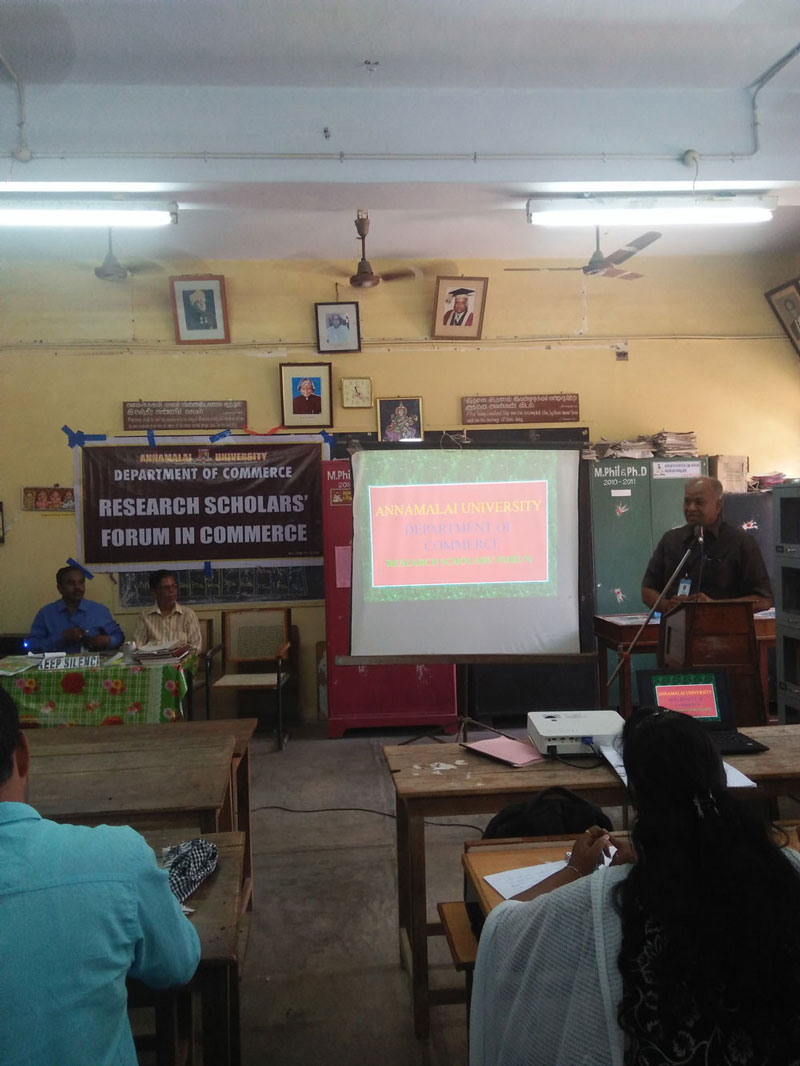 Research Scholars Forum being addressed by Dr,.G.Vedantha Desigan Director of Rural Development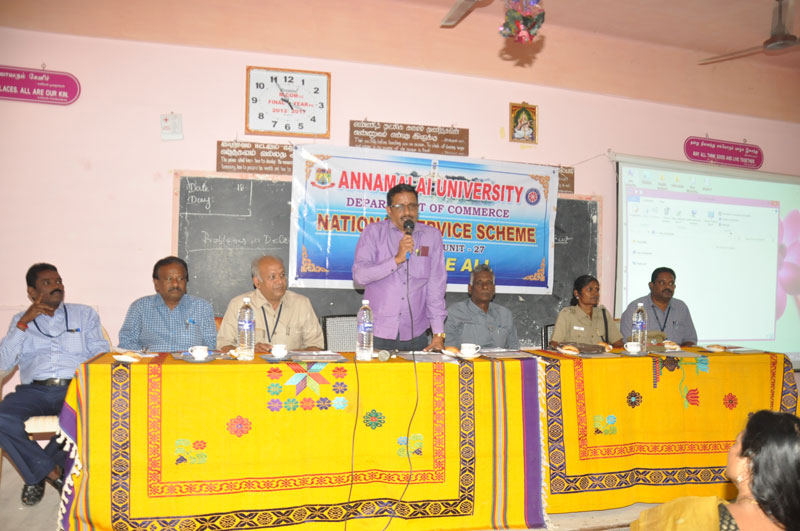 NSS meeting
Dr.G.Ravi Prof & Head inaugurating the Special Lecture Series of the Research Scholars' Forum in Commerce
Mr.C.Bremanand from Ansel Education Consultancy from London The UK addressing the Scholars and students of Arts Faculty for Studies Abroad.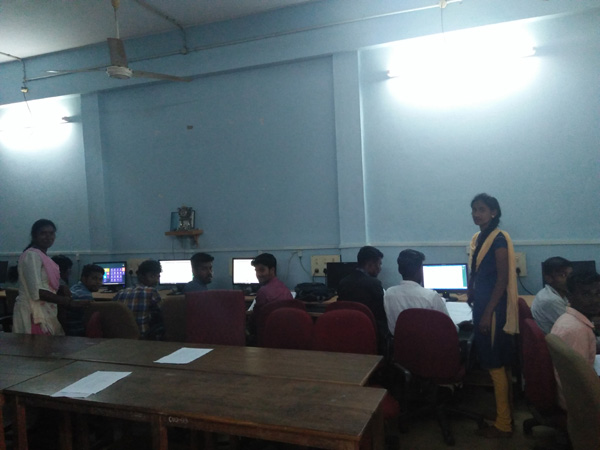 TALLY - Programme being taught to the Students by InSys School Instructors in the Computer Lab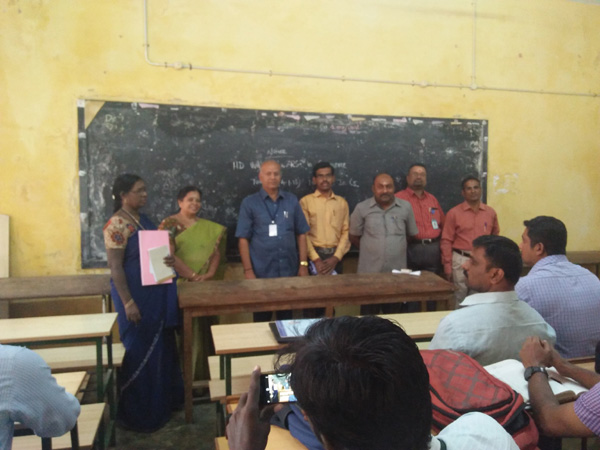 Mr.G.Arul Vignesh is felicitated by all Professors in the Dept for Passing NET Exams in Nov.2017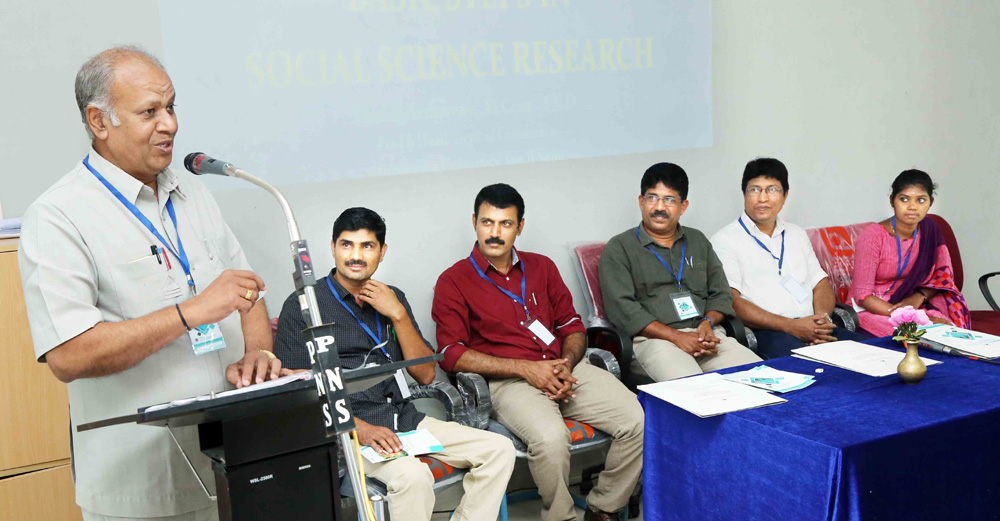 Inaugural / Key note address at the Govt. College of Arts & Science, Kalpetta affiliated to Calicut University,
Kerala in a National Conference on Research Methods in Social Science Research.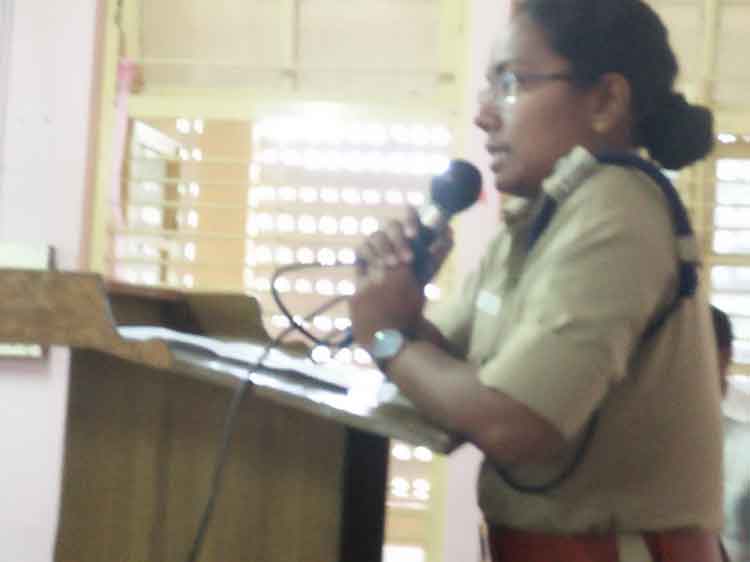 Ms.Nisha IPS the ASP of Chidambaram is addressing the NSS volunteers
in Commerce Department while taking the Anti-corruption Pledge.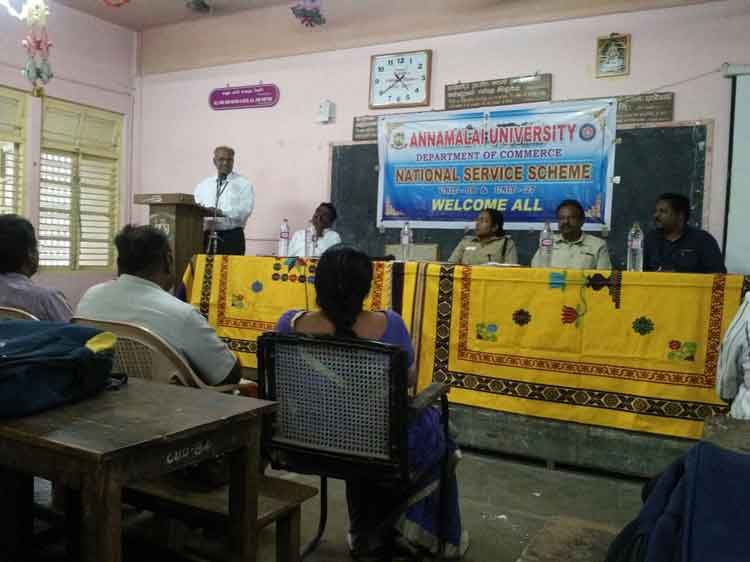 Nss Inaugural address delivered by Dr.D.Ilangovan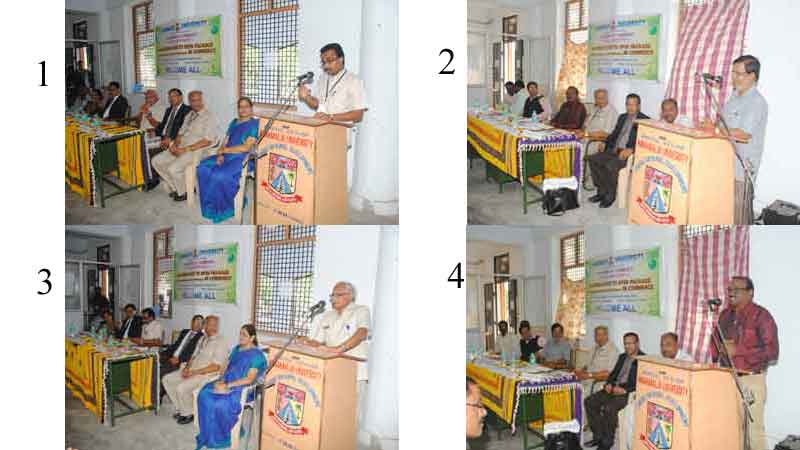 1. The Director,DDE addressing the Inaugural Function at the Workshop
2. The Director i/c of Centre for Rural Development offering Felicitation at the valedictory function.
3. The Dean of Marine Sciences Felicitating the Participants at the workshop
4.The Dean of Arts delivering the Valedictory Address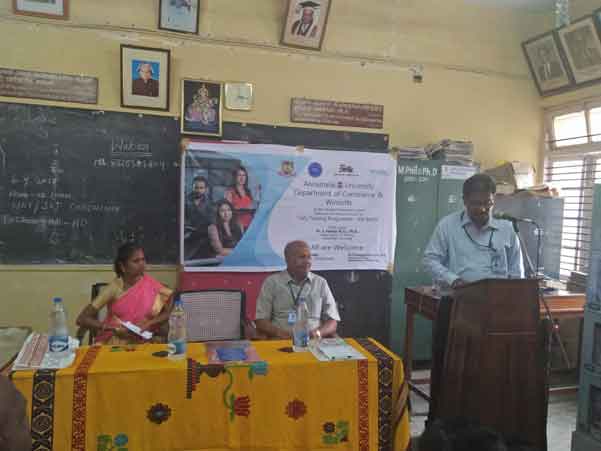 Dr. S.Kabilan Dean Faculty of Science inaugurating the Tally XIX Batch on 5.9.2017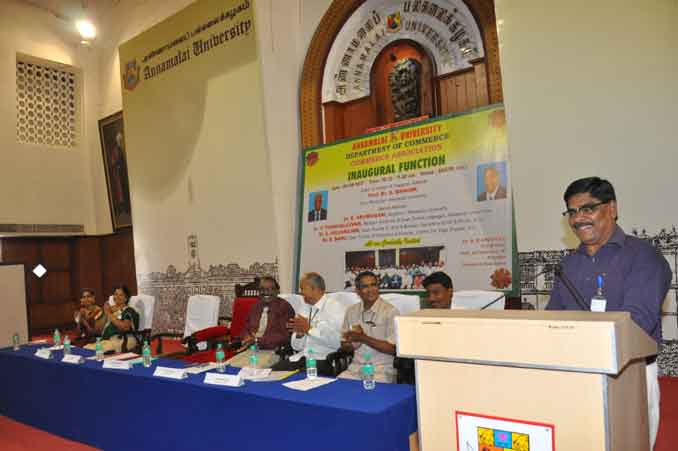 Dr.R.Babu, Dean Faculty of Education addressing at Commerce Association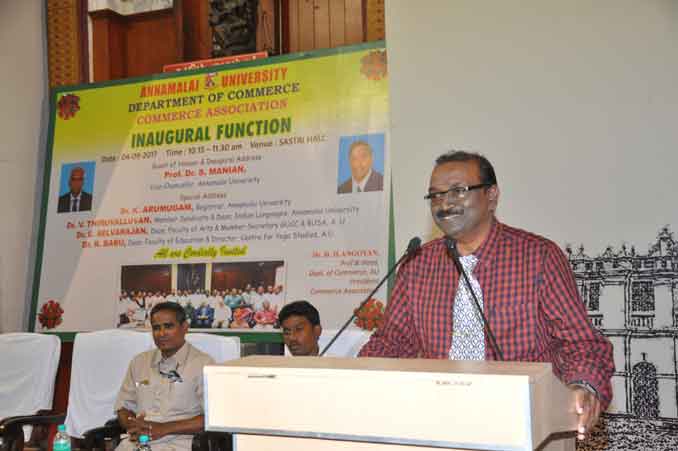 Dean Faculty of Arts Dr.E.Selvarajan addressing at the Commerce Association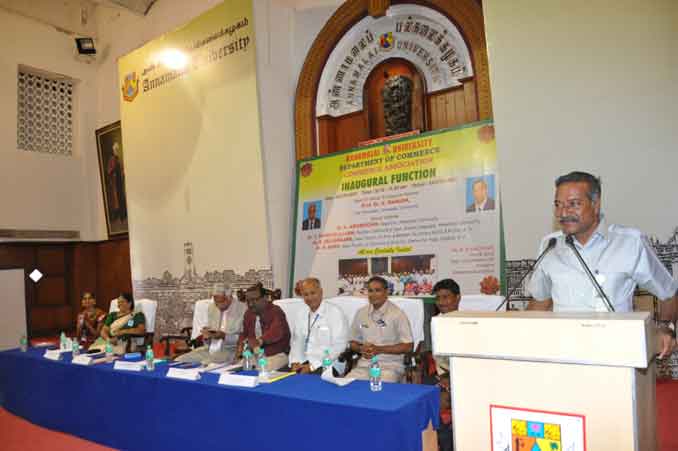 Member Syndicate Dr.V.Thiruvalluvan addressing at the Commerce Association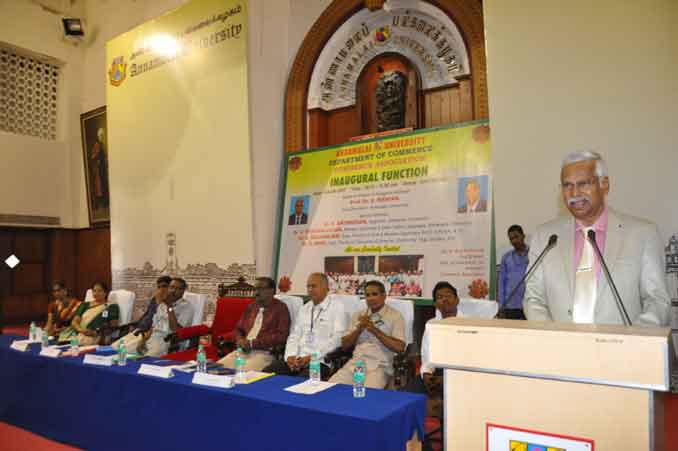 Our Vice Chancellor Inaugurating the Commerce Association on 4-9-2017

BOOKS PURCHASE IN MEGA BOOK FAIR, 2017, FEAT CAMPUS ANNAMALAI UNIVERSITY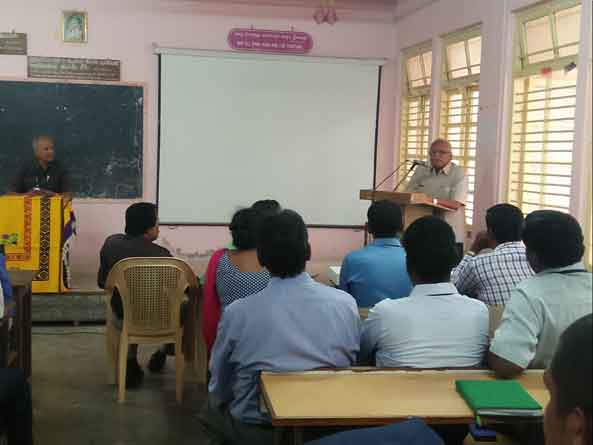 The Staff Study Circle in the Dept of Commerce was inaugurated by
Dr.A.Shanmugam Dean Faculty of Marine Science
on 17th Aug. 2017 and on that occasion the Prof. & Head Dr.D.Ilangovan delivered
a special lecture on ESSENTIAL HABITS OF EFFECTIVE LEADERS to the Staff Members.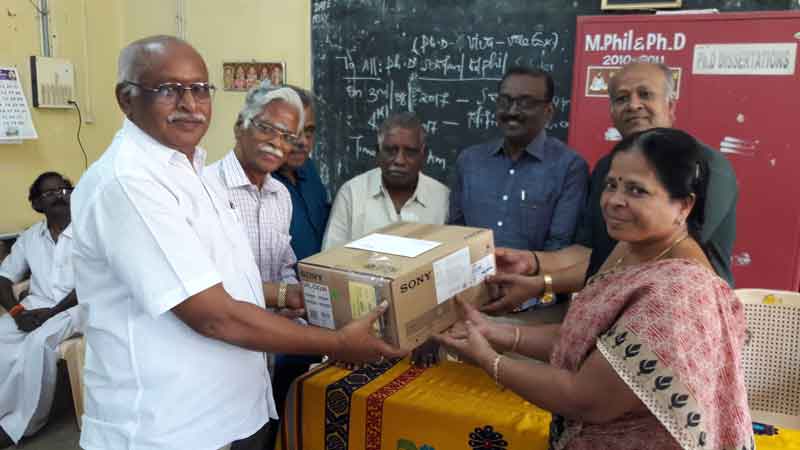 1964-67 Golden Jubilee Batch of BCom Alumni Donate an LCD Projector to Commerce Department in the presence of
Arts Dean Dr.E.Selvarajan and Prof. & Head Dr.D.Ilangovan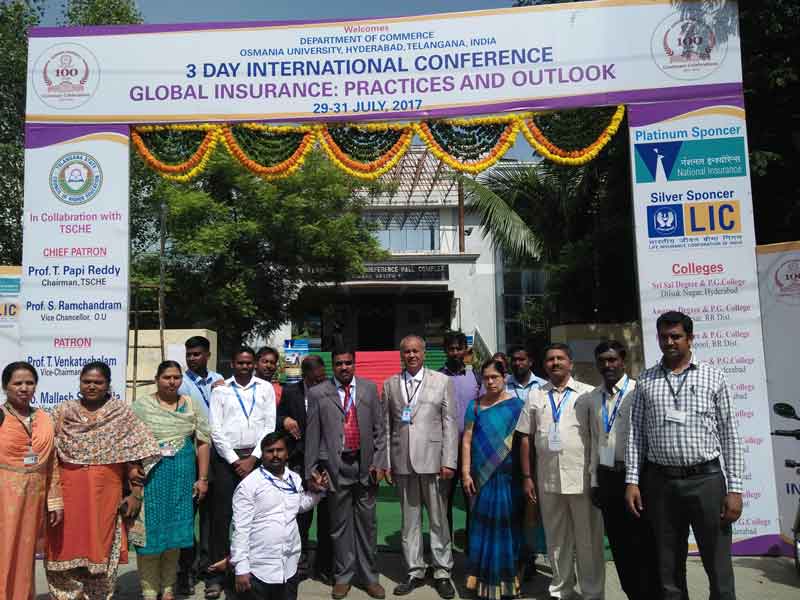 Research Scholars in Commerce in Hyderabad along with Dr.D.Ilangovan, Prof. & Head and Conference Secretary
Dr.D.Chennappa of Osmania University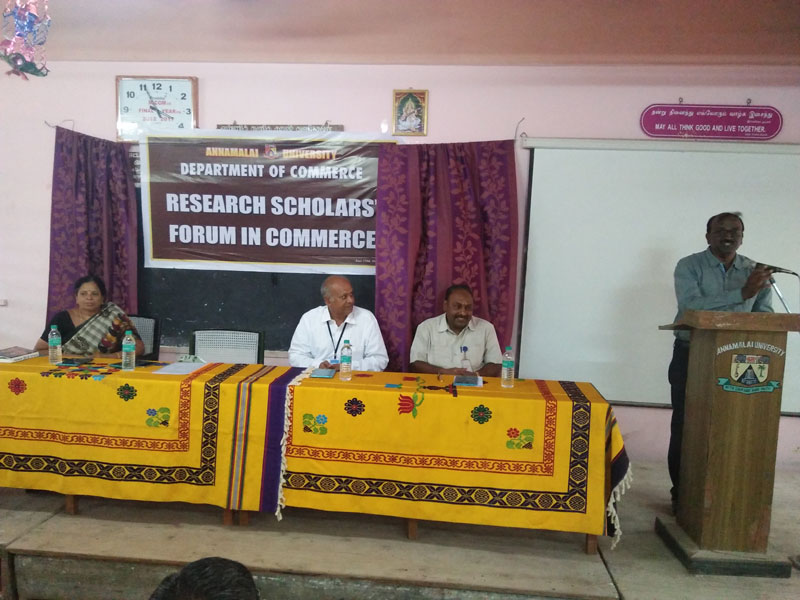 Inauguration of Research Scholars' Forum in Commerce by ARTS Dean Dr.E.Selvarajan on 12th July 2017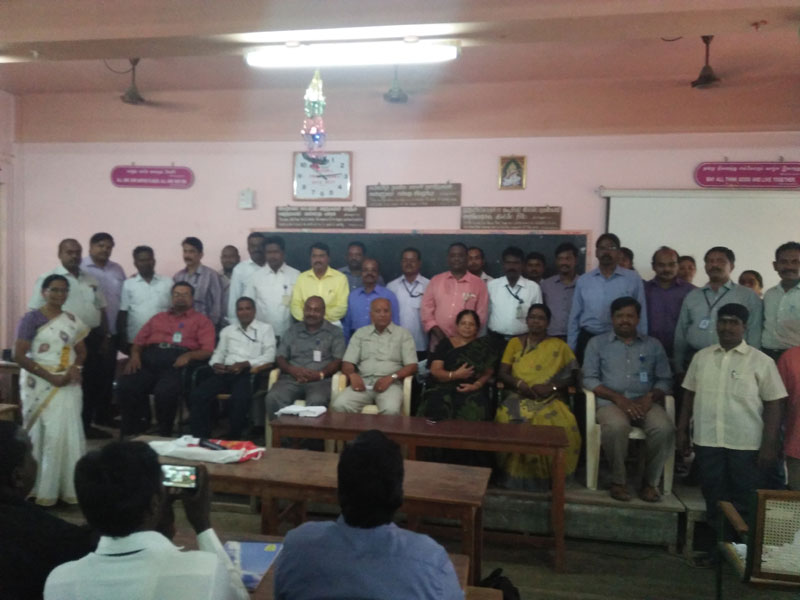 Staff members after merger of On-Campus and Off-Campus sections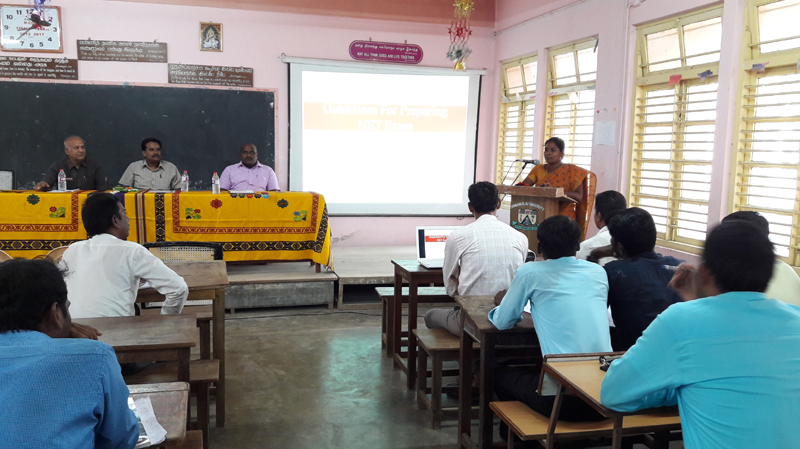 The Research Scholars attending an orientation programme on NET/SET exams - an overview, held on 28th june 2017.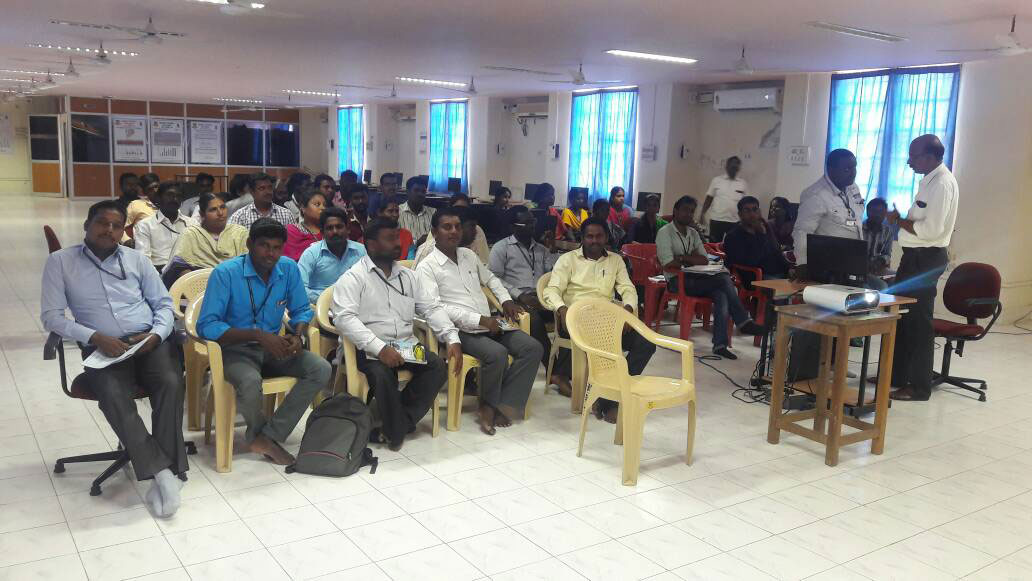 Research Scholars attending a Workshop on Usage of E-Journals in Commerce on 27 June, 2017 at the University Central Library.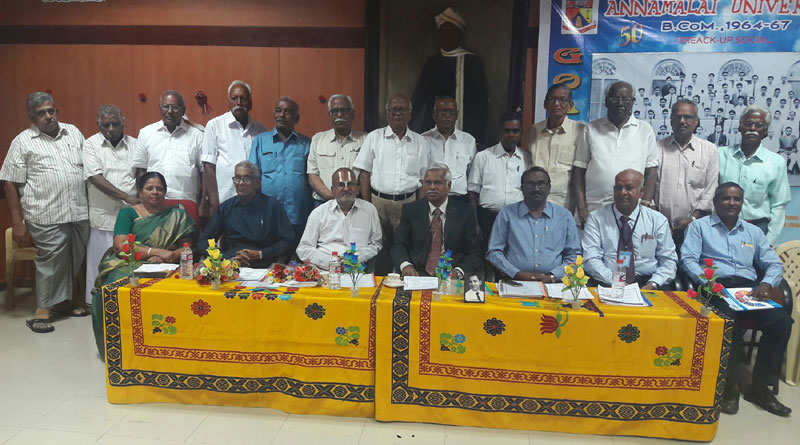 The Vice Chancellor and The Dean of Arts with the Present and Past Head of the Dept of Commerce along
with the Golden Jubilee Batch of B.Com. 1964-67 AlumniGroup who met on 10.06.2017 in Annamalai University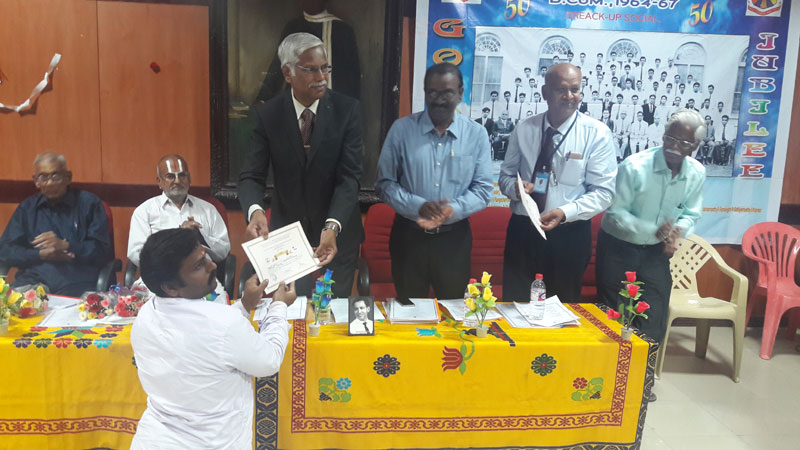 The Vice Chancellor giving away the International Conference [held at Calicut University] Certificate to
R.Settu, a physically challenged Ph.D. scholar from the Department of Commerce Annamalai University
The Vice Chancellor Addressing the Golden Jubilee Batch 1964-67 of B.Com Graduates on 10.06.2017 in
the Central Hall of University Guest House, Annamalai University during their Alumnai Meet.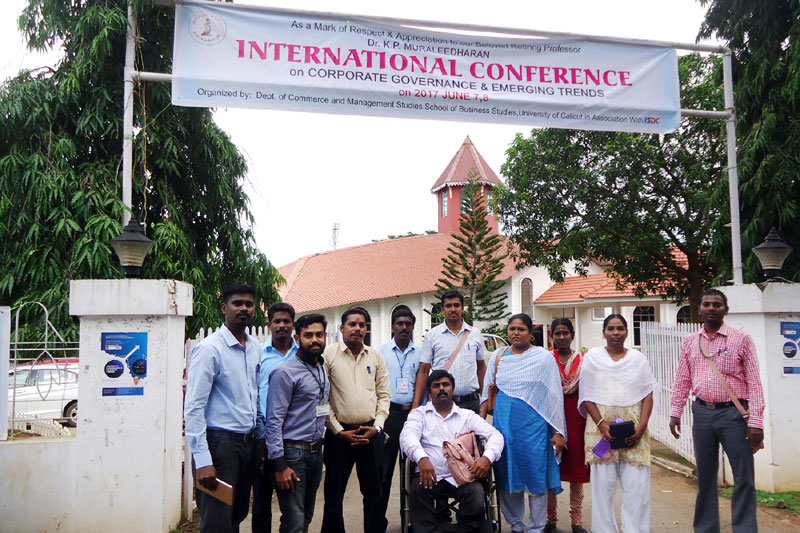 The Eleven Research Scholars from Commerce who participated in the International Conference
in the Dept of Commerce and Management Studies, University of Calicut, Kozhikodu, Kerala