Home
>
Faculty of Engineering & Technology
>
Computer Science & Engineering
Computer Science & Engineering
Activities
Extension Activities
The department has been involved in various extension activities. Computer training programme was conducted to backward class/most backward class and denotified categories of students with the association of Govt. of Tamilnadu, Computer training programme was conducted to Headmasters of Higher Secondary Schools and free computer training programme was conducted to Tamilnadu Government in-service Police personnel. Computer Training for Tamil Nadu Judicial Academy – Cuddalore district judges and judicial officers from Chidambaram division was given by the department
NSS Activities
Orientation Course for Programme Officer in MADRAS SCHOOL OF SOCIAL WORK

Blood Donation Camp; Coastal Cleanup Camp; Fire Safety Demonstration;

Medical Camp; Communal Peace Day Awareness Motor Cycle Rally; National Integration Camp; Summer Adventure Camp; State level youth leadership camp; Tree Plantation
Recent Activities

I. Pre placement training test was conducted on 10.08.2017. 150 students participated in the test.

II. Special Lectures/Workshop Organized
1. A Special lecture on "Application Programming Interface" was delivered by Mr.S.Balachandar, Full Stack Developer, Visa Inc, Bangalore on 14.07.2017.
2. Mr.M.Manickam, Project Manager, Cognizant Technology Solutions, Chennai delivered a Special lecture on "Project Execution and its Challenges" on 07.08.2017.
3. A first Online Interactive session was organized on "To Build a Personality", by Mr.S.Kumaravel, CEO, M/s. Trans Crescent Water in Dubai on 22.09.2017.
4. A special lecture on "Limitations in Machine Learning" was delivered by Dr.A.Kumaravel, Professor& Dean, School of Computing, Bharath Institute of
Higher Education and Research, Chennai on 24.10.2017.
5. Two days Workshop on "Python Programming with IDEs" was conducted on 4th and 5th of January 2018.

III. Computer facilities offered :
1. Computer facilities were provided for training the Tamil Nadu State Govt. Employees of Registrar's office, Chidambaram (TeAM – Total e-gov based Administration and Management) on 12.08.2017.
2. Computer facilities were provided to Health department, Tamil Nadu State Govt. for online data entry work of Pregnancy and Infant Cohort Monitoring
and Evaluation (PICME), Directorate of Public Health and Preventive Medicine, Cuddalore District on 26th, 28th , 29th and 30th of December 2017.

IV. The department organized "Basic Computer Training Programme" for Police personnel for two days on 24.11.2017 and 25.11.2017.
The valedictory function was presided by Selvi.N.S.Nisha, IPS, Asst.Supdt. of Police, Chidambaram. She distributed the certificates to the participants of the training programme.

V. Inaugural Function of Computer Science and Engineering Association (CSEA) and Computer Society of India (CSI) Annamalainagar Chapter was conducted on 11.01.2018.


Co-Curricular, Extracurricular and Extension Activities
Pre Placement Test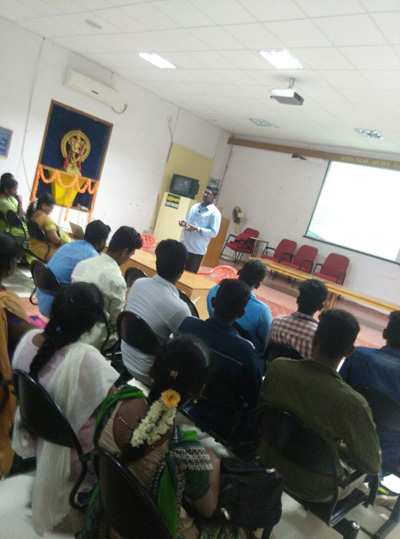 Special lecture by Mr.S.Balachandar, Visa Inc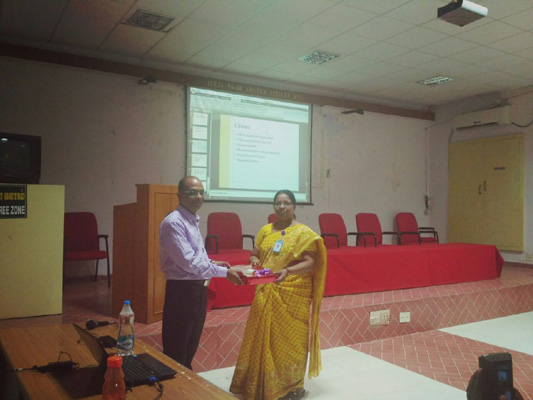 Special Lecture by Mr.M.Manickam, CTS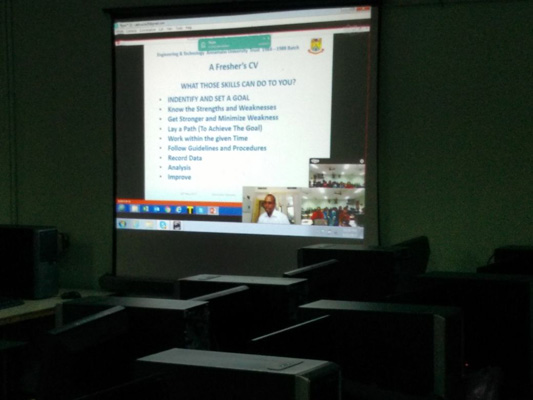 Online Interactive Session by Mr.S.Kumaravel, M/s. Trans Crescent Water in Dubai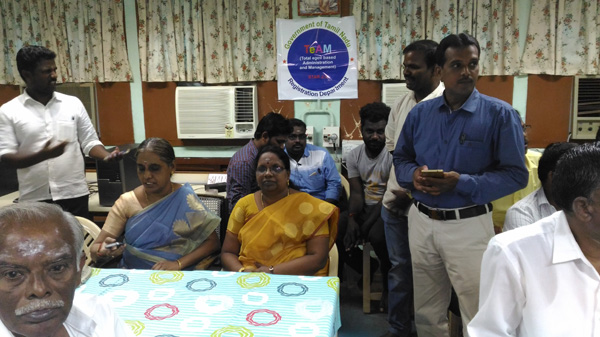 TeAM (Total e-gov based Administration and Management)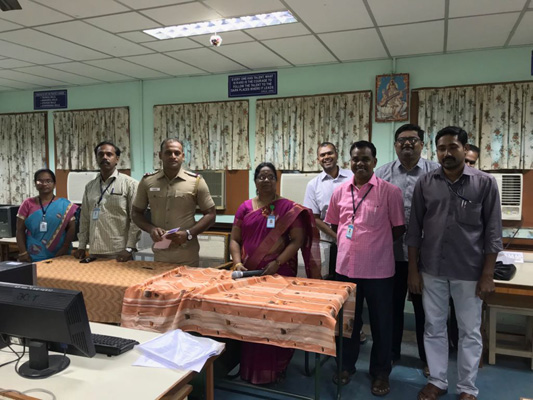 Basic Computer Training Programme for Police Personnel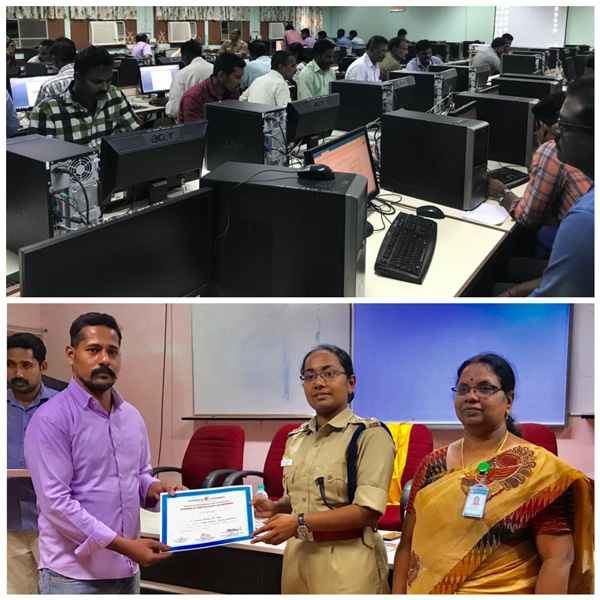 Certificate Distribution by Selvi.N.S.Nisha, ASP, Chidambaram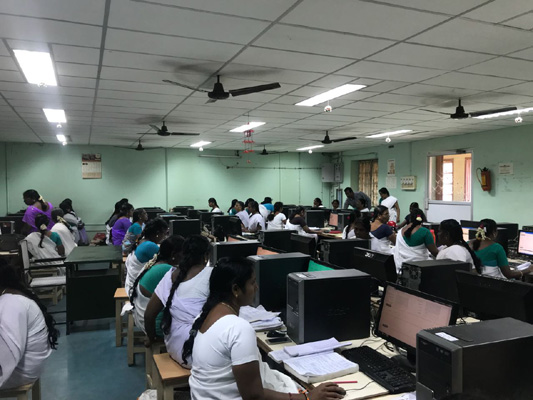 PICME online Data entry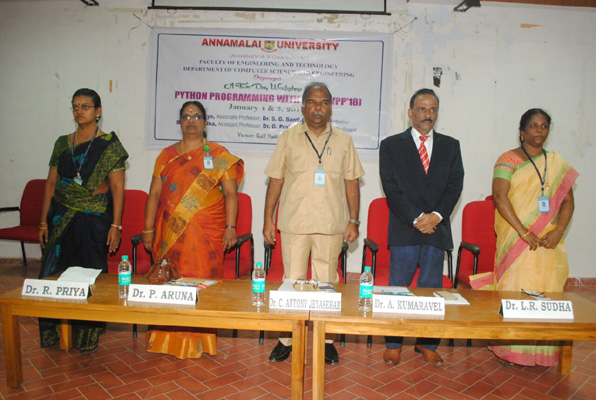 Workshop on Python Programming with IDEs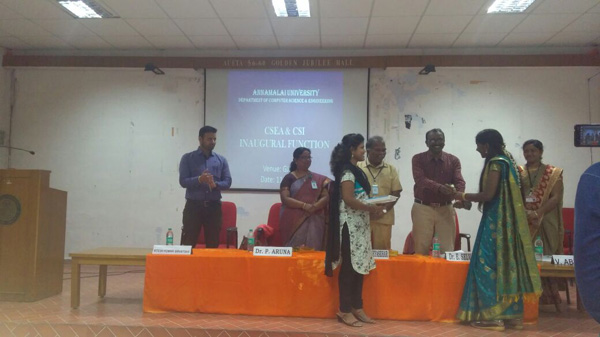 Inauguration of CSEA and CSI