Power electronics Lab Floor space: 81 Sq.m
SI.No
Equipment Name
Date of Purchase
Cost
1.
Magnetic v664-bit-2d
31/03/2009
3,75,968.00
2.
Vissim software with Ti - Emulator
29/06/2009
2,60,000.00
3.
Ni ELVIS-II basic bundle
22/03/2010
3,15,675.00
4.
dspace ACE kit 1103
28/02/2011
10,03,379.00
5.
Hybrid solar testing model setup
30/03/2011
393,536.00
6.
Hybrid solar testing system
30/03/2011
3,84,384.00
7.
3ϕ and 9 ϕ matrix convertor
29/03/2012
7,49,700.00
8.
BLDC motor drives and SRM based drives with eddy current load setup
31/03/2012
10,14,300.00
Details of computing and networking facilities
Six Workstations
50 PCs with Local Area Network connection
Six Laser Printers, one scanner and one inkjet printer
Five number of computer systems with internet connection in different Labs of the Department.
Simulation softwares like ORCAD V.9,PSIM, Mentor Graphics, LABVIEW,VERSAPRO,MATLABV.7.1,Coventorware, Intellisuite, Comsol,TUTSIM,VISSIM, Eurotherm Operating Suite, SABER, Code Composer Studio for Texas Instrument DSPs, MODELSIM,System Generator and XILINIX ISE foundation series for real time interfacing of FPGA,KV ladder, Cimplicity HMI are available.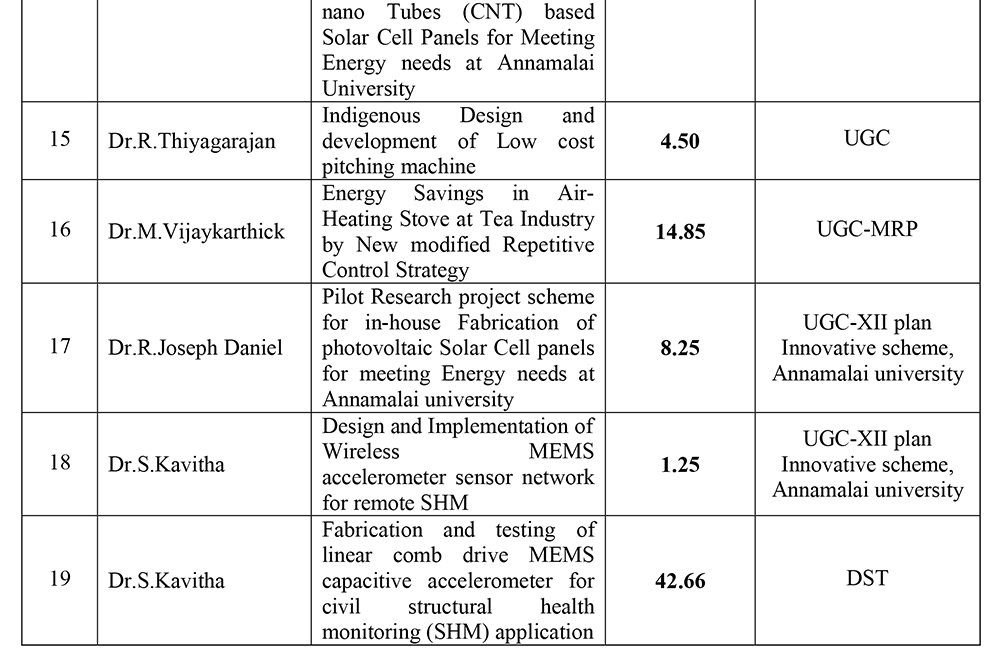 Student Activities
INSTRUMEET : Intra Departmental sports
LITERON : Student literary event
GUEST LECTURES : Eminent personalities and professionals deliver Lectures on state of the art topics
The students are encouraged to participate in social activities like NCC, NSS, YRC and blood donation camp.
Student Enrichment programmes
Inplant training at industries and need based value addition programmes are conducted that make students industry ready Students are trained for soft skills