Home
>
Faculty of Engineering & Technology
>
Electronics & Instrumentation Engineering
Electronics & Instrumentation Engineering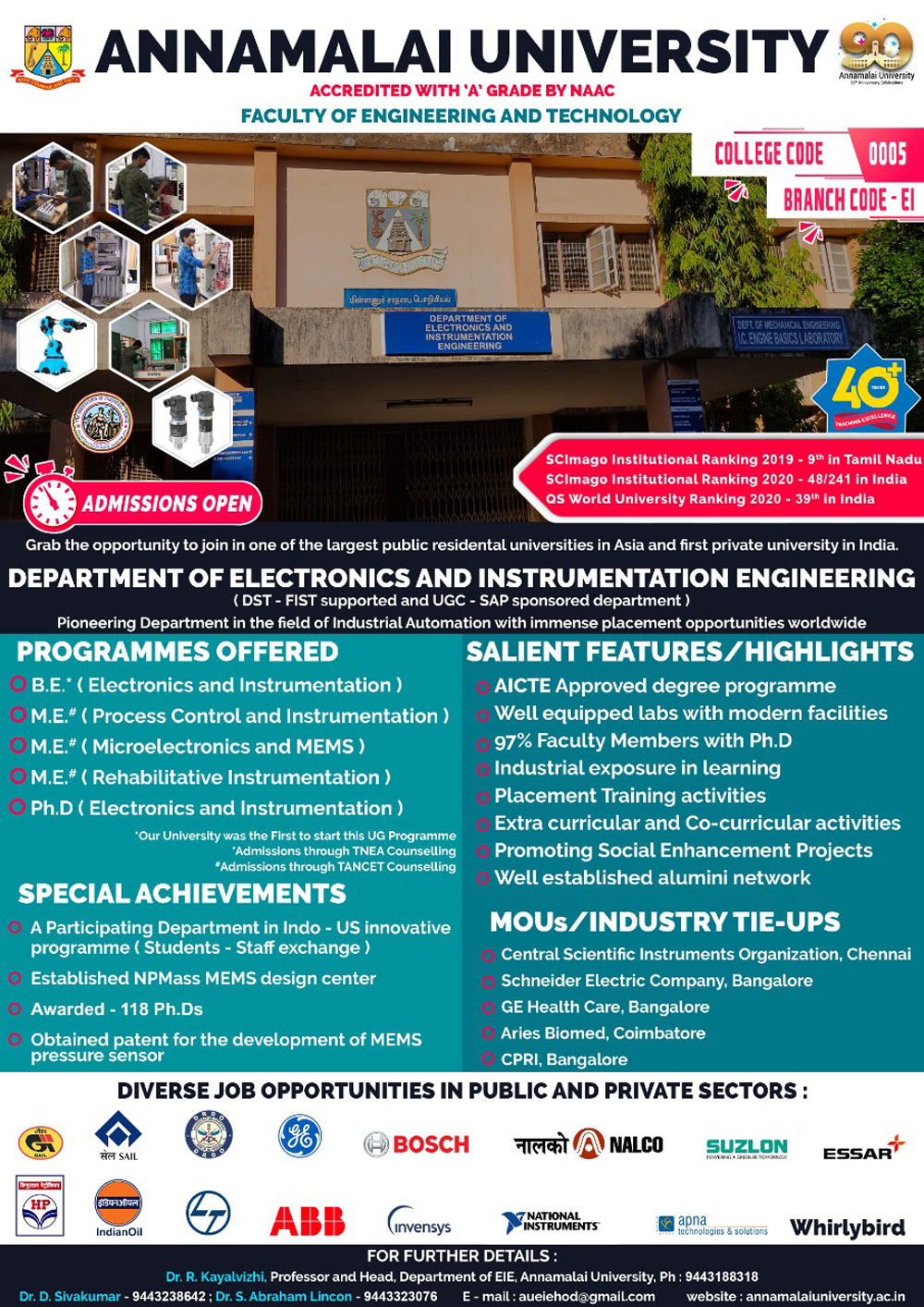 You Tube link to the Video about Department of Electronics and Instrumentation Engineering
Department of Electronics and Instrumentation Engineering
The Department of Electronics and Instrumentation Engineering, a DST-FIST supported and UGC-SAP sponsoreddepartment was established in the year 1988. Department of Electronics and Instrumentation Engineering, Annamalai University is the second of its kindin the state of Tamilnadu to offer an under graduate programme in Electronics and Instrumentation Engineering.It offers one Under-Graduate programme B.E (Electronics and Instrumentation), Three Post-Graduate programmes M.E (Process Control and Instrumentation), M.E(Microelectronics and MEMS) and M.E(Rehabilitative Instrumentation) and also research programme (Ph.D.) in the various fields of Instrumentation and Control Engineering, Micro Electro Mechanical Systems (MEMS) and Bio Medical Instrumentation for both regular and part-time scholars.The curriculum is being updated regularly with inputs from industries and reputed educational institutions. The department with its state of the art laboratories, as well as young and dynamic faculty is involved in providing quality education at both UG and PG levels.
VISION
To nurture higher echelons of technology through participative education, innovative and collaborative research with a view to bring out employable graduates of International standard and to achieve excellence in all spheres of education.
MISSION
To establish state of the art facilities related to diverse dimensions in the field of Electronics and Instrumentation Engineering
To foster higher quality of education with equivocal focus in theory and practical areas of Electronics, MEMS, Control and Instrumentation Engineering.
To ensure that the dissemination of knowledge reaches the stakeholders and forge the opening of a fresh flair of human resources
To create opportunities for advancements in different facets of this discipline and offer avenues to reach the citadels of one's career
To unveil excellence in research projects and consultancy services for the betterment of the global community.
YEAR OF ESTABLISHMENT : 1988
Special Status Achieved:
DST FIST
UDC SAP assisted DRS Department Status (2012)
UGC Innovative (2013)
National MEMS Design Centre
Pioneering Department in this field of Engineering
Covers a wide range of subjects
Centres around the disciplines of Electronics, Control and Instrumentation Engineering
Course spreads over balanced theoretical and practical content
Exquisite state of the art infrastructure
Well-equipped labs with latest facilities
Experienced faculty with adequate teaching and research knowledge
Provides hands-on training in industrial infrastructure like PLCs, DCS and ProcessControl Plants
MOU/INDUSTRY TIE-UPS:
Central Scientific Instruments Organization, Chennai
Schneider Electric Company, Bangalore
GE Health Care, Bangalore
TMI Systems, Bangalore
Areis Biomed, Coimbatore
CPRI, Bangalore
Vi Microsystems Pvt. Ltd., ChennaiCollaboration with Harriot-Watt University, Edinburg, UK for carrying out Multiscale Cancer Modeling Research under DST-UKIERI
Programmes Offered
B.E. Electronics & Instrumentation (Full-time & Part-time)
M.E. Process Control & Instrumentation (Full-time)
M.E. Rehabilitative Instrumentation (Full-time)
M.E. Microelectronics & MEMS (Full-time)
Ph.D. Electronics & Instrumentation Engineering
Contact
The Professor and Head

Department of Electronics and Instrumentation Engineering

Annamalai University

Annamalai Nagar-608002

Tel Number : 04144-239736

E-mail :

aueiehod@gmail.com