Dr. Rajah Sir Annamalai Chettiar, the founder of Annamalai University, was an ardent patron of Tamil Music, was very keen to develop the University as a Seat of Tamil Music. In accordance with the lofty mission and vision, the Music College was established in 1929. The Department, popularly known as Music College on the Campus, is housed in a splendid building that includes a spacious recital hall and class rooms. The Continuing Tradition of the department is to have performing artistes and eminent Musicians as Teachers who cultivate in the students the gift of Musical expression. Apart from Practical Training, Teaching is done by a mix of lectures, seminars, symposia, workshops, group practice and individual consultative tutorials. A good number of well trained students of the faculty hold high position in Universities, Colleges and Schools of Music all over India and Abroad. A separate faculty of Fine Arts was started in 1953, in which the department of Painting was included. This faculty also provided for the inclusion of the Fine Arts like Sculpture, Architecture, Drawing and Drama.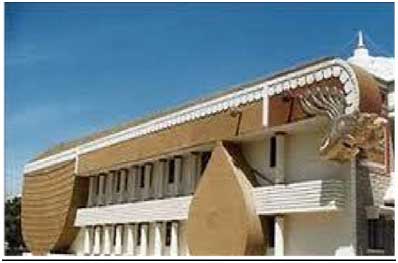 Department Of Music
In 1930, the Music College was constituted in the University as Department of Music. Sangeetha Kalanidhi T.S. Sabesa Iyer was the first Principal of the College. The Music stalwarts have rendered their service as Principals, viz.
Sangeetha Kalanidhi T.S.SabesaIyer (1929-1936)
Sangeetha Kalanidhi Tiger K. Varadhachariyar (1937 - 1941)
Sangeetha Kalanidhi K.Ponniah Pillai (1942-1943)
Sangeetha Kalanidhi Thiruppampuram N.Swaminatha Pillai (1944-1945)
Sangeetha Kalanidhi Chittoor Subramania Pillai (1946- 1954)
In 1943, a post of Professor of Music was created, and Sangeetha Kalanidhi Prof. K. Ponniah Pillai was the first Professor of Music, followed by Thiruppampuram Swaminatha Pillai and later by Chittoor Subramania Pillai.
In 1953, when the Department of Music comes under the faculty of Fine Arts, Music veterans and eminent Performing artists of music adorned the post of Dean and Head.
Isai Arasu, Sangeetha Kalasikhamani M.M.Dandapani Desikar (1955-1976)
Padma Shri. Dr. Madurai Somasundaram (1977-1984)
Padma Shri. Dr. Sirkali Govindarajan (1985-1987)
Prof. S.V. Parthasarathy (1988-1989)
Sangeetha Kalanidhi K. P. Sivanandham (1990-1991)
Dr. Abhyambika (1992-1996)
Wg. Cdr. V.G. Subramanian (1999-2002)
Prof. O.S.Thiyagarajan (2002 -2006)
Padma Shri. Dr. A.K.Palanivel (2007-2013)
The experience and expertise of the Deans in the field of Music and performing arts guided the faculty to achieve goals and their eminent leadership have contributed much for the development of music and the Department.
In accordance with 2013 act of this State University a separate Head of the Department of Music was appointed in the faculty of Fine Arts. Dr. R. Rajendran, Professor of Sociology (2013-2017), Dr. S. Nagarajan, Professor Of Library Science (2017) and Dr. K. Muthuraman, Professor of English (2017-2020) were the Deans in charge of the faculty. Dr. T. Arutselvi, Professor of Music (Veenai) was the Head of the Department Of Music from 2013 to 2019. At present Dr. R.K.Kumar, Associate Professor of Music (Vocal) has been the Head of the Department from 2019 and Dr. T.Arutselvi has been the Dean of the faculty from 2020 .
Some Eminent Personalities who served this Department are Mahavidhwan Sattur S. Krishna Iyengar, Mahavidhwan V.S. Gomathy SankaraIyer ,Kumbakonam Rajamanickam Pillai, Sri. T.K. Rangachari, Thiruppampuram N. Sivasubramania Pillai, K.S. Sivavadivel Pillai, Mylattur V. Sami Iyer, Yazhpanam. A.S. Ramanathan, Sri. K.S. Narayanawamy, Smt. Gowri Kumari, Kalaimamani Smt. Saradha Sivanandam, Sangeetha Kalanidhi Sri. T.M.Thyagarajan, Sri. Subbramaniya Mudaliyar, Sangeetha Kalanidhi Sri. T.K.Govindarao, Isai Perarignar    K.P. Kittappa Pillai, Sangeetha Kalacharya Sri. Thanjavur SankaraIyer, Sangeetha Kalacharya S.R.D.Vaidhyanathan, Kalaimamani Perumpallam Venkatesan, Sangeetha Kalacharya Sri. S.R. Janaki Raman, Kalaimamani Tharapuram Sundarrajan, Sri. Thirukkokarnam Ramachandra Iyer, Isai Perarignar Sri. P.S.V. Raja, Prof. R.V.Krishnan, Sri. P. Ramachandrayya, Kalaimamani Anayampatti S. Ganesan, Kulikkarai P.Visvalingam, Kanchipuram Veerusamy Pillai, Smt. G. Syamala Gopalan, Smt. G. Saraswathy Sankaranarayanan, Pannisai Perarignar Dharumapuram S. Gnanaprakasam, Smt. Vasundara Nanjundan, Sangeetha Bhushanam Varagur. G. Swaminathan, Sangeetha Bhushanam C.S. Narasimhan, Sangeetha Bhushanam Embar Varadhachari and Karaikudi V.M.Ganesan.
Highlights:
Dr. Rajah Sir Annamalai Chettiar Organized a world Tamil Music Conference in Chidambaram in the year 1943 and inaugurated Tamil Isai Movement to rehabilitate the ancient Tamil Music and restore it to its primacy in Tamil Nadu. In connection with that ideal, 21 Volumes of Old and Rare gems of Tamil songs and new compositions with Music Notation have been published. The first
Volume was published in 1943. Most of the volumes had about five Editions. In the year 1947, Swami Vipulananda, Professor of Tamil, Published his monumental treatise "Yazh Nool" on Tamil Music.
To cater to the needs of Music students across the world, Certificate Programmes, Title Programmes, U.G and P.G Programmes were introduced through Distance Education which have received huge response from music lovers especially from Indian Diaspora.
From 2005 onwards,music and Dance Programmes are offered through Distance Education mode by the Department of Music.
For the benefit of overseas student Community the Department of Music signed MOUs with Music Schools and Institutes in Canada, Malaysia, Srilanka and Switzerland.
In the Academic Year 2013-2014 the Department of Music Introduced Grade Certificate Programmes in Vocal, Veenai, Violin, Flute, Mridangam, Nagaswaram, Thavil, Thevaram, Keyboard and Bharathanatyam from Grade I to VIII through Distance Education mode to impart knowledge of music and dance for the age group between 7 to 70, which received overwhelming response globally. So far, about 50,000 students around the world have benefitted by this Grade Certificate Programme.
The Department of music has been actively involved in Research and has produced 20 M.Phils. and 45 Ph.Ds.
The Department of Music has organized 4 International Conferences, 18 UGC - Sponsored national Seminars and National level workshops wherein delegates across the world participated and rendered fruitful deliberations. The faculties of the Department have attended number of Seminars , Conferences and published more than 300 research articles in National and International Journals and 37 Books.
The faculties who are " A " and "A Top " Grade Artistes have given many performances in AIR Sangeetha Sammelan and in Doordarshan. The Faculty members have conducted overseas examinations in Canada, Malaysia, Newzealand, and Switzerland. The students of the Department are regularly participating and performing in the Prestigious Programs like Nattiyanjali festival
in Chidambaram and  other places, Doordarshan , other TV  channels and in various National and International Seminars and conferences in Universities.
Some of the Distinguished Alumnis are Thanjavur SankaraIyer, Dr.S.Ramanathan, Veenai PichumaniIyer, Tharapuram Sundarrajan, Dharumapuram Swaminathan, Lalgudi Swaminathan, Sri.O.V.Subramaniam, Srirangam R. Ranganathan, Kovi. Manisekaran, S.V.Parthasarathy, Vaigal.S. Gnanaskandan, Pannisaikalanithi. M.Navarathnam, Kalabhushanam A.K. Karunakaran, Kalabhushanam S. Padmalingam, Sangeetha Bhushanam B.V. Raman, Sangeetha Bhushanam B.V. Lakshmanan, Pudukkottai Krishnamurthy and Pannisai Perarignar Dharumapuram S. Gnana Prakasam.
The Distinguished Alumni of the Department are serving as HODs in Various Universities, Principals of Various colleges and in Schools in India and Abroad.
Best Practice and Activities:
The Department has a Research forum for M.Phil. and Ph.D. Research Scholars of Music and Dance to improve their communication and Research Skill and a faculty forum for the Teachers to improve their Teaching and Research Skills. Concerts and Skill Development program are organized every week for students to expose their talents and to improve their stage performance. Students are encouraged to attend the National and International conference/Seminars/Workshop/Symposia etc.,.
Every year Music festival (Isai Vizha) and Navarathri festival are being organized in which eminent artists perform music and Dance Programmes.
The Department of music so far conducted 4 UGC – Sponsored Refresher courses in the years 1998, 2001, 2003 and 2007.
Honorary Professors who have been appointed in the Department, visit the Faculty periodically, to educate the student community and to keep abreast of the changing trends in music field. Students are motivated with different competitions, stipend and Endowment scholarships and scholarship under various government schemes.
Programmes Offered by the Department:
Four    Year B.F.A   and Isaikalaimani Title Programmes in Vocal, veenai, violin, flute , Mridangam, Nagaswaram and Thavil ; Four Year B.F.A (dance) and
Title of NatiyaKalaimani (Bharathanatiyam); Four Year Title of Thevara Isai kalaimani ; Two year M.F.A Music in Vocal, Veenai, Violin, Flute , Mridangam, Nagaswaram and Thavil and M.F.A in Dance (Bharathanatiyam) ; Two Year Title of Isai chelvamani Programme in Vocal, Veenai, Violin, Flute , Mridangam, Nagaswaram and Thavil ; One Year Teacher Training Certificate in Indian Music ; One Year Diploma in Nattuvangam; Research Programmes- M.Phil. and Ph.D. in Music and Dance.
With the commitment of the Erudite faculty, researchers and students, the faculty of Fine Arts marches ahead towards achieving further excellence in Teaching, Research and Extension.