Home
>
Faculty of Science
>
Computer and Information Science
Computer and Information Science
Activities

1) The festivities for International Women's Day took place at Annamalai University on March 21, 2023. As part of the celebrations, various competitions were held at University level. Ms. B. Keerthana, I-M.Sc (Data Science) won the third prize in the Tamil essay competition.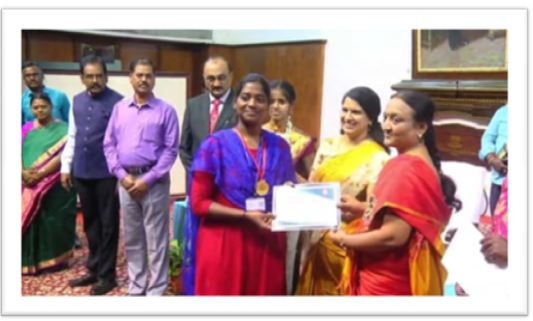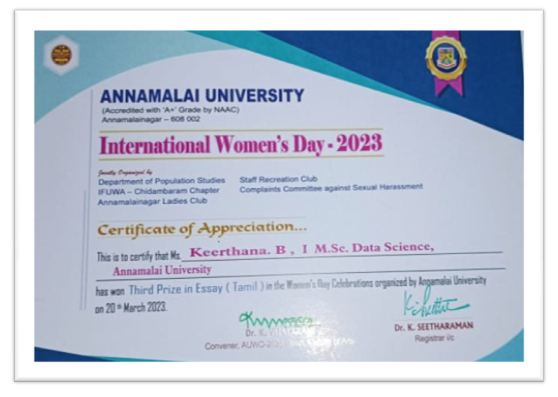 2) The Department of Computer and Information Science, Annamalai University conducted a three-month training program on "ICT Training for School Dropout Girl Children". The program, which was supported by the India Team - Seattle Chapter in the USA and enabled by the Internal Quality Assurance Cell (IQAC), took place from September 10, 2022, to December 28, 2022, in Karumandurai, Kalvarayan Hills, Salem District.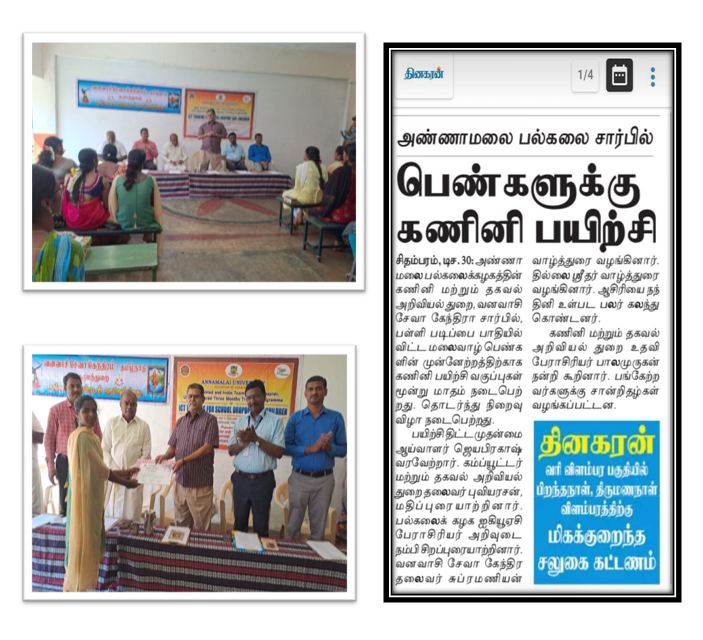 3) The Department of Computer and Information Science at Annamalai University has organized a three-month training program on "Computer Training for the Rural Girl Students". The program is enabled by the Internal Quality Assurance Cell (IQAC) and sponsored by the India Team - Seattle Chapter in the USA. It is scheduled to conduct from February 1, 2023, to April 30, 2023, at Annamalai University in Annamalainagar, Cuddalore District.
4) The Department of Computer and Information Science organized a two-day National Conference on "The Role of Computational Intelligence in Emerging Research Innovations." The conference, which took place on March 10th and 11th, 2023, was sponsored by RUSA 2.0 and enabled by the Internal Quality Assurance Cell (IQAC).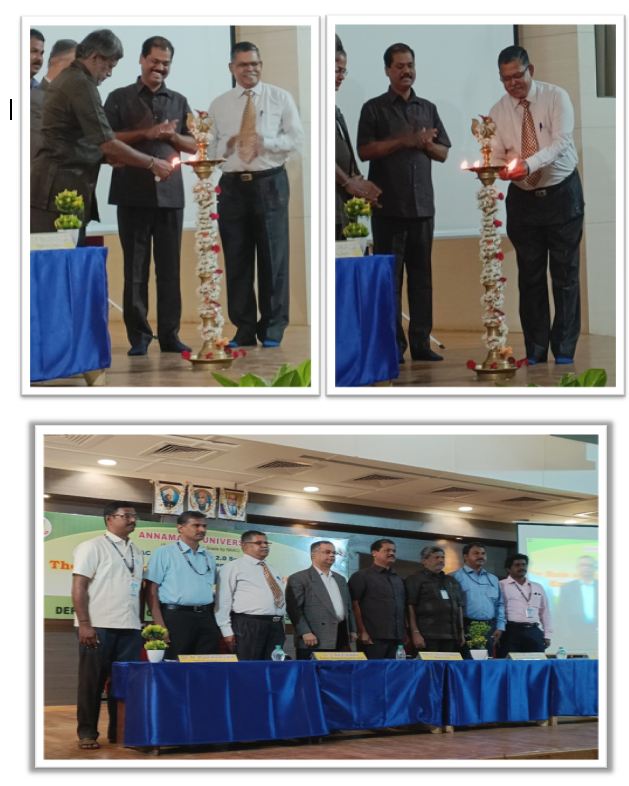 5) On March 2nd and 3rd , 2023, the Sports Committee of the Department of Computer & Information Science organized a sports day that featured a variety of indoor and outdoor games. 500 students from various batches of the department participated in the event, which provided them with a platform to engage in healthy competition and display their athletic skills.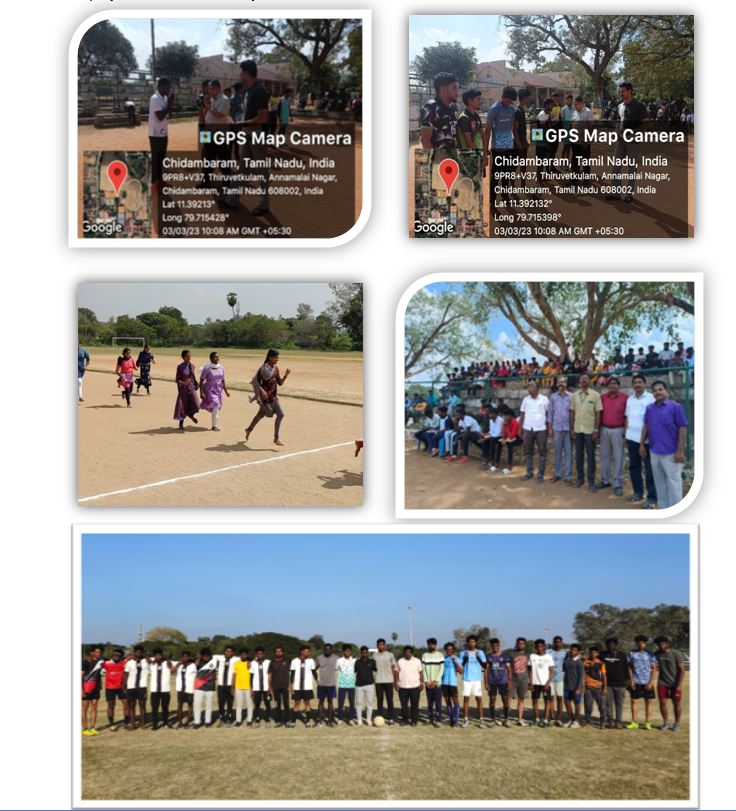 6) The Department of Computer and Information Science at Annamalai University hosted a variety of literary events in the academic year 2022-23 aimed at nurturing creativity and highlighting students' writing and literary abilities. The events comprised of writing competitions, speech contests and art competitions.
7) The 30th edition of the prestigious all India MCA Meet VERSION 23 took place at NIT, Tiruchirapalli , from March 17th to 19th, 2023. In this event, first year MCA students namely Mr.M.Annamalai and Mr.S.Sanjaykumar secured the second position in the "PAPER HIVE" competition.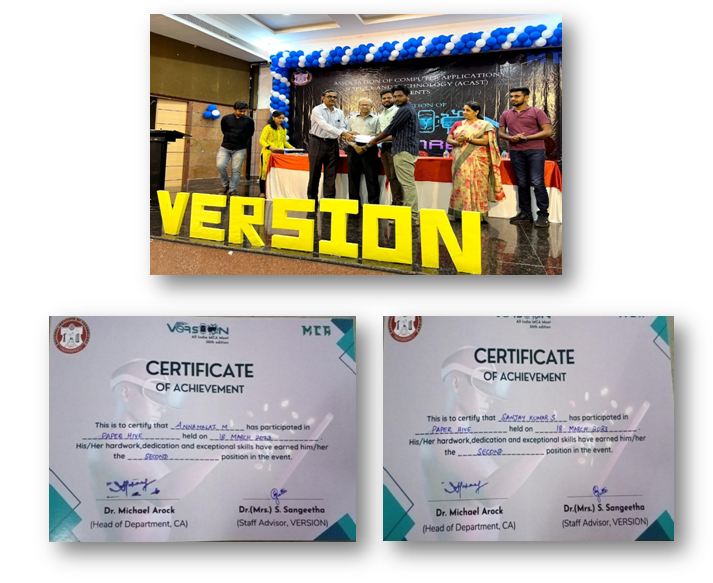 As part of the development of research activities, researchers are motivated to formulate and share with each other a conceptual framework in their research field by delivering a series of technical lectures. Senior staff members of the department gave their best suggestions and shared their research experiences after studying the lectures. This can be a great motivation for the researchers.
Extension activities
Various extension activities have been undertaken by the department. In 2018, Computer training was given to the Junior Assistants in order to pass their
departmental test
. Some participants are working in this university, while others are deputed to other institutions.
On 12.05.2022, our Department's Computer and Information Science Association (CISA) was established by our Honourable Vice Chancellor. In this event, The Registrar gave presidential address.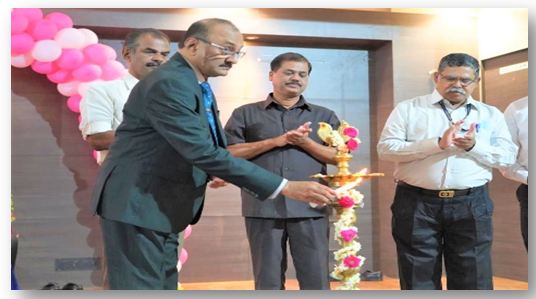 Association activities include special lectures from the leading personalities in Industry and Institutions, placement assistance, personality development, group discussions, staff-student interaction and more.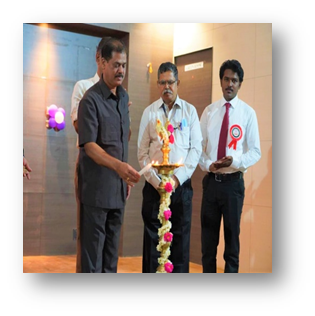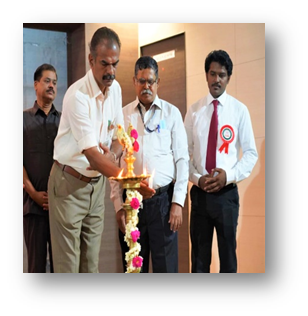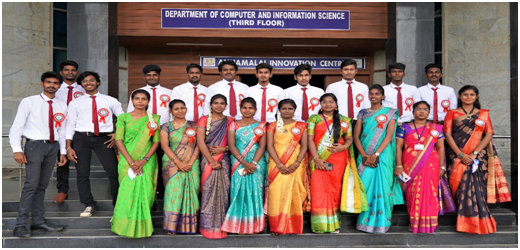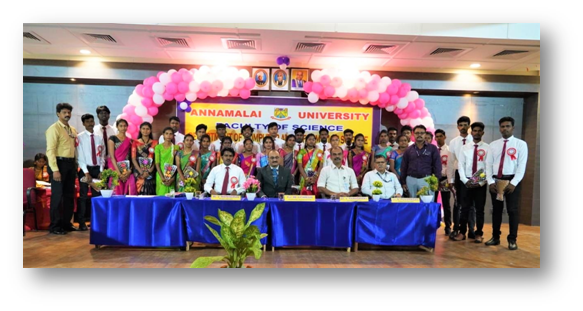 Co-Curricular Activities
Numerous literary events such as elocution competition, essay writing competition, drawing competition, lectures and debates have been organized for the personality development of our students. These competitions were conducted at regular intervals without interrupting the classes.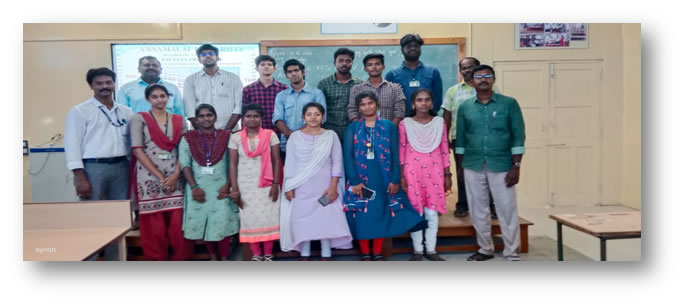 Sports
Sports Day is a day dedicated for praising and rewarding the talented students who participate in intramural sports on campus. Our department arranged a grand sports event at University Pavilion on April 19-20, 2022. In which all the students from our department were participated with great enthusiasm and manifested their athletic skills with an unimpeachable finesse.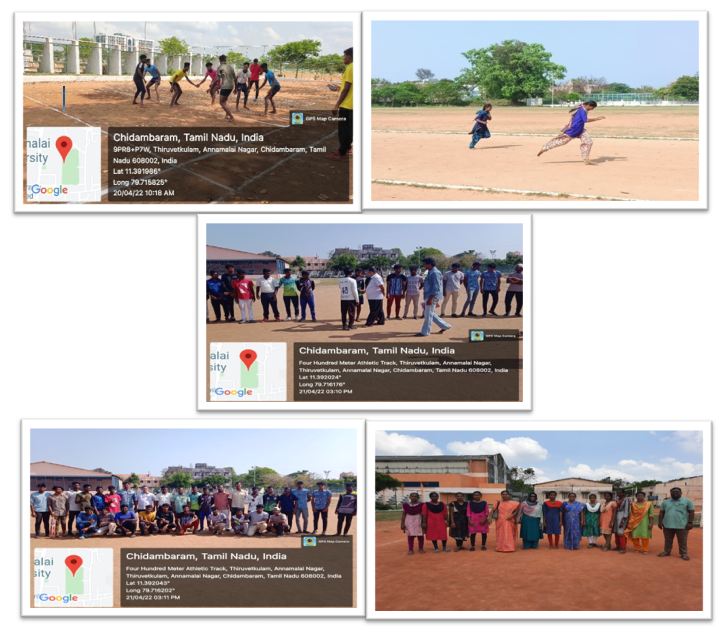 Extracurricular & Extension Activities
The students' creative visual board (4'×6') has been placed closer to the HOD room, and our students regularly exhibit new advancements and innovations in the field of computer and information science. The contents are displayed in the prescribed format (A4 size) after they are verified by the staff members.